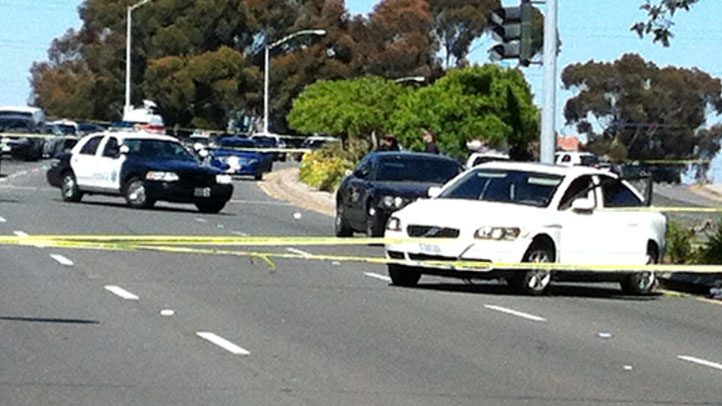 A deputy U.S. marshal, who was dragged more than 100 yards by a fugitive's car, managed to pull out his weapon and shoot the suspect in the torso, bringing the speeding vehicle to a halt.
San Diego police officers responded to Interstate 805 and Balboa Avenue around 2:45 p.m. Friday after hearing a radio call of an officer down.
The U.S. Marshal Fugitive Task Force had been following the suspect's vehicle along the highway when the passenger, wanted for burglary and firearms charges, learned of the surveillance.
The car unexpectedly stopped along the I-805 overpass.
As agents approached the car, a woman driving jumped out of the car and was taken into custody according to officials.
It was then that the suspect, who had been riding in the passenger seat, jumped over into the driver's seat and started to drive away investigators said.
"One of the agents reached into the vehicle and made an attempt to grab the keys and and turn the vehicle off," said San Diego police captain Terry McManus.
The deputy U.S. marshal was dragged more than 100 yards down the road before he was tossed from the vehicle officials said.
Emergency workers transported the injured agent to Scripps La Jolla Hospital where he is being treated for a head injury along with scrapes and bruises.
The agent, although injured himself, rendered aid to the suspect McManus said.
The 31-year-old suspect was transported to Sharp Hospital where he was in surgery with non-life-threatening injuries officials said.
Both northbound and southbound off ramps from I-805 to Balboa Avenue have been closed to traffic. Balboa Avenue was closed between Charger Boulevard and Convoy Street.
The Sig Alert launched by the CHP was expected to last until approximately 9 p.m. Friday.
As of 10 p.m. Friday, eastbound Balboa Avenue had reopened. The affected portion of I-805 reopened shortly thereafter.

Officials said they do not yet know if the female driver will face charges in the incident.

San Diego police officers are handling the investigation of the shooting.

On Saturday, spokesman for the federal agency Greg Doss said the injured deputy U.S. marshal involved in this case is in good condition at the hospital, recovering from bumps, bruises and scratches.

On Sunday afternoon, the deputy U.S. marshal was released from the hospital and was said to be in good spirits.
Keep up to date on breaking news: Download our improved iPhone app, follow us on Twitter @nbcsandiego, fan us on Facebook, sign up for our breaking news e-mail alerts or text SDBREAKING to 622339 to receive text messages for local breaking news. (For more info, text HELP. To end, text STOP. Message and data rates may apply.)