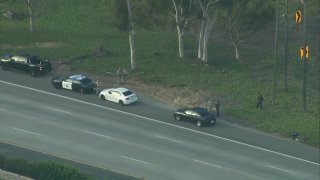 An off-duty San Diego police officer was struck by a vehicle while attempting to clear tires from the Interstate 5 roadway in Oceanside Friday morning, the San Diego Police Department said.
The officer, who was driving her own vehicle, pulled over when she noticed a big-rig had lost two tires on southbound Interstate-5 near the state Route 56 interchange, the California Highway Patrol said.
The tires were in the roadway and starting to cause traffic backup, so the officer stepped out of her vehicle to help remove them. At about 6 a.m., while in the road, was struck by an oncoming vehicle, CHP said.
The officer, who was not identified, suffered minor injuries and was taken to a local hospital, CHP said.
The vehicle was being driven bu a 22-year-old man from Rancho Santa Margarita. Drugs or alcohol are not believed to be factors in the crash and the driver was not taken into custody.
An investigation affected lanes of I-5 near SR-76 until about 8:30 a.m.
CHP continues to investigate the incident.
This is a developing story and details may change as they become available.