The man behind the wheel in a rollover crash fled the scene, leaving an injured juvenile behind according to Oceanside Police.
A white car landed upside down on a hillside at Carey Road and Canyon Drive just before 11 p.m. Sunday.
When officers arrived at the scene, they found an injured juvenile girl but no driver.
He was found later in a nearby neighborhood wearing just shorts without shoes. Emergency personnel treated him at the scene for a cut on the left side of his head.
The juvenile girl was transported to a nearby hospital with injuries. Officials did not provide details on the relationship between the driver and the passenger.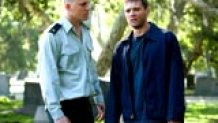 Oceanside police arrested the driver on suspicion of felony DUI and felony hit and run.
No details on what caused the crash.