A group out on a whale watching excursion in Oceanside has a whale of a tale to tell: they spotted a shark swimming near their boat – and captured the sea sighting on video.
On Sunday at around 2:30 p.m., the group of about 25 people was aboard the Oceanside Adventures whale and dolphin trip, sailing past the Oceanside Harbor buoy when they saw a gray fin sticking out of the water.
Soon, they realized the fin belonged to what's believed to be a great white shark between 12 and 14 feet long, Carla Mitroff, manager of Oceanside Adventures, told NBC 7.
The shark swam calmly near the bow of the group's boat, lingering for about three to four minutes before it swam away, Mitroff said. Cellphone video captured by the group and posted on YouTube showed the shark's fin bobbing in the water; in the video, the shark never popped its head out of the water.
"Cool," one person aboard the vessel can be heard saying.
"Wow," says another.
Mitroff said the Oceanside Adventures groups often see juvenile great white and mako sharks while out on excursions, but this was the biggest one they've ever seen in their two years of offering the tours. The area by Oceanside Harbor is also known for sea lions, dolphins and stingrays, she said.
Mitroff said no one from the whale watching group was in the water at the time of the sighting. They immediately called lifeguards to report the shark. When lifeguards arrived on jet skis, the shark was gone.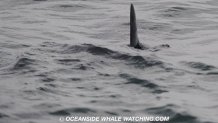 Oceanside lifeguard Lt. Blake Faumuina told NBC 7 the shark, likely a great white, was about three-quarters of a mile offshore when the boaters spotted it. Because it was close, lifeguards also sent a boat out to scan the area.
Faumuina said no alert was issued. Had the shark been near the pier, lifeguards would have issued a warning. From looking at the video, he said the shark was not displaying aggressive behavior and just appeared to be cruising through the area.
Oceanside Harbor is located about 20 miles south of San Onofre State Beach – the location of many recent shark sightings, including two on Fourth of July weekend.
In late April, San Diego mother Leeanne Ericson was attacked by a shark off San Onofre State Beach as she swam alongside her boyfriend, who was surfing in the area. She survived the shark attack and continues to make progress on her long, challenging road to recovery.