On a sunny Friday morning in Coronado more than 1,000 Naval Special Warfare service members gathered to say goodbye to Petty Officer First Class Remington Peters, a SEAL, Leap Frog parachute team member, son, brother and boyfriend.
Peters died on May 28 during a parachute demonstration at Liberty State Park in New Jersey that was part of New York's Fleet Week.
Peters, a nine-year Navy veteran, deployed twice to Iraq and Afghanistan. Peters, 27, was a native of Colorado and made his home in Coronado. His personal awards included the Navy and Marine Corps Commendation Medal, Navy and Marine Corps Achievement Medal, Combat Action Ribbon, among many others.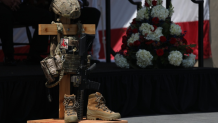 "To stand out in this community of elite warriors like Remi did takes not only an unprecedented operational competency, but more importantly an unrivaled character," said Captain Jay Hennessey, Commanding Officer of Naval Special Warfare Center. "To be selected as a member of our Parachute Team is not only a coveted professional accomplishment, but a hard and fast measure of Petty Officer Peters' personal devotion to his profession."
Friday's ceremony was held in the grinder, a courtyard at the center of the Naval Special Warfare complex where BUDs candidates hold their graduation ceremonies before becoming SEALs.
Peters is survived by his mother Tina, father Tom, sister Cayce, and his girlfriend of three years, Rebecca.
The Navy says investigation into what went wrong is expected to take several months.