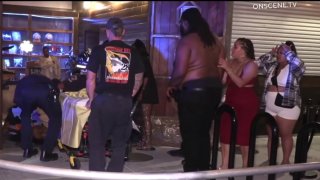 Authorities on Tuesday publicly identified a 60-year-old man who was fatally stabbed last weekend in a karaoke-bar parking lot during a predawn dispute with another man in Kearny Mesa.
Patrol officers responding to a report of an assault found Edward Manier of San Diego gravely wounded near the entrance of the Hive in the 4400 block of Convoy Street at about 12:30 a.m. Sunday, according to San Diego police.
Paramedics took Manier to a hospital, where he was pronounced dead.
During the investigation, police determined that the victim and the suspect were part of the same group of people who went to a restaurant/karaoke bar. During their time there, a fight broke out between the suspect and victim, when the suspect then fatally stabbed the 60-year-old.
The suspect is described as a man possibly in his 30s.
It was unclear what prompted the fight between the two men.
Anyone with information regarding this incident can call the Homicide Unit at (619) 531-2293 or Crime Stoppers at (888) 580-8477.