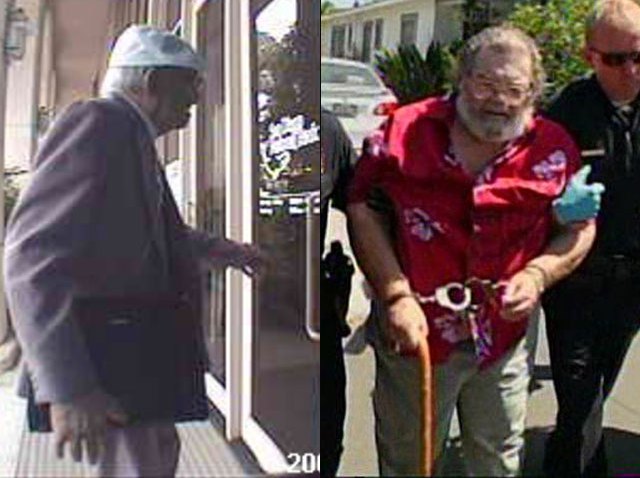 Meet the Geriatric Bandits: One has a cane, the other needs an oxygen mask. They're old enough to be your grandfather. This past week, they've both robbed banks. And one is still at large.
On Saturday, a man carrying an inhaler or an oxygen tank robbed the San Diego National Bank in La Jolla. The man, wearing a white beret, argyle sweater and sports coat, walked into the bank on Ivanhoe Avenue with a demand note. In the picture caught by surveillance cameras, he looks to be in his 70s. An oxygen tube appears to hang from his face.
Investigators don't know if he was armed, but they do know that he got away with some cash. Just look at him -- would you stop him?
Then, two days later, another bank robbery. This time, the target was the Bank of America on El Cajon Blvd in City Heights. A 70-year old man -- with cane, mind you -- walked into the bank with a note and demanded a large amount of cash.
The bank manager attempted to evacuate the bank and lock the suspect inside, but Geriatric Bandit No. 2 was too crafty. Despite dozens of police cars surrounding the bank, he hobbled out of the bank using a side door and tried to hide on the porch of a home a few blocks away.
Police found him lying on the porch and arrested him -- maybe his bright red hawaiian shirt gave him away.