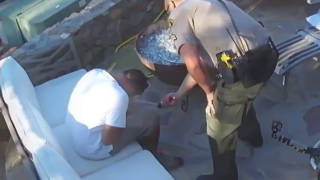 A North County man who accused a San Diego County Sheriff's deputy of using excessive force reached a $100,000 settlement with the county on Wednesday.
Two years ago, the man called deputies for help with a domestic issue between him and his wife. The deputy that responded to the man's home ended up pepper spraying him in front of his home, he claimed.
The victim's attorney Jeremy Warren described the encounter between his client and Deputy Paul Brown III as calm, but only for the first few minutes.
The deputy asked the man to sit on a wooden chair on his front porch. The man, citing back problems, sat on a couch instead. That's when he was sprayed by the deputy.
The victim's home security camera recorded the entire interaction, but the terms of his six-figure settlement prevent him from sharing the video. He could, however, share still images which show the moments Deputy Brown sprayed the man not once, but twice.
"Officers, of course, are authorized to use force but only when necessary
to protect themselves or other people. Here, there was no effort on my
client's part to do anything aggressive," Warren said.
The man claimed he was handcuffed and taken to jail without receiving medical attention. Deputy Brown's report said the man was drunk in public, an accusation the man's attorney alleges is false.
A blood alcohol test or breathalyzer test was never issued, according to Warren.
NBC 7 reached out to the SDSO to ask if Deputy Brown was disciplined in any way, but the department has yet to respond.