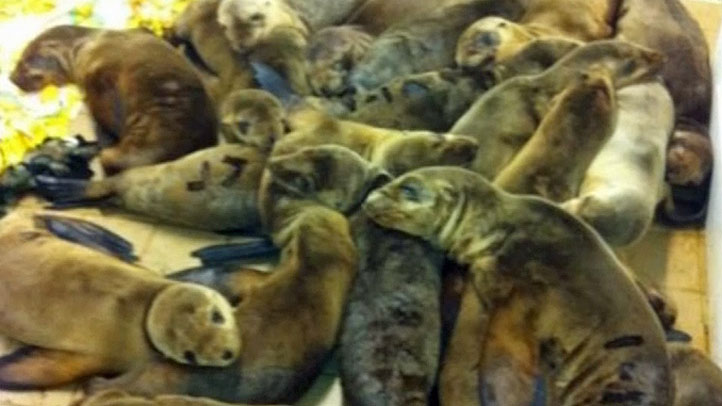 There have been seven times the number of sea lions that have beached themselves in San Diego County compared to the same time period last year.

There have been significant increases throughout beaches from Santa Barbara County to San Diego, according to the National Oceanic and Atmospheric Administration (NOAA) Fisheries. They said 214 sea lions from beached themselves in San Diego County from Jan. 1 – March 31 this year. Over the same time period last year, there were 32 of the mammals found on San Diego's shoreline.

The greatest increase is in Los Angeles County, where the number went from 36 last year, to an astounding 395 beaches sea lions so far this year.

There has been a been 1,100 beached sea lions in the five coastal counties stretching from Santa Barbara to San Diego, according to Sarah Wilkin, NOAA Fisheries Southwest Regional Stranding Coordinator. There has been an additional 83 sea lions in the rest of the state. They are predominately pups, according to Wilkin.

So the big question is, "Why?" It's a question that still has not been answered. But because of the high number of beached sea lions, NOAA has been granted an official declaration of what's called an Unusual Mortality Event (UME). The status allows for the establishment of a panel of experts to convene to look for answers and will also provide for extra funding.

Right now, the leading hypothesis the panel of experts is looking at focuses on a lack of food source. Most of the seal pups have shown signs of starvation and dehydration. Other potential causes that will be studied will include possible infectious diseases, or pollutants in the ocean.

In a conference call with reporters Thursday morning, Wilkin said there has been a shortage of food sources such as sardines and anchovies. She also said pups are being affected in greater numbers than adults because they are limited in how far they can travel and are unfamiliar with the environment.

Wilkin also says many rescue centers are at capacity (though SeaWorld San Diego says it is still accepting sea lions) and many of the sick sea lions are being kept on the beach for observation.


Sick sea lions rest at San Pedro marine mammal facility.