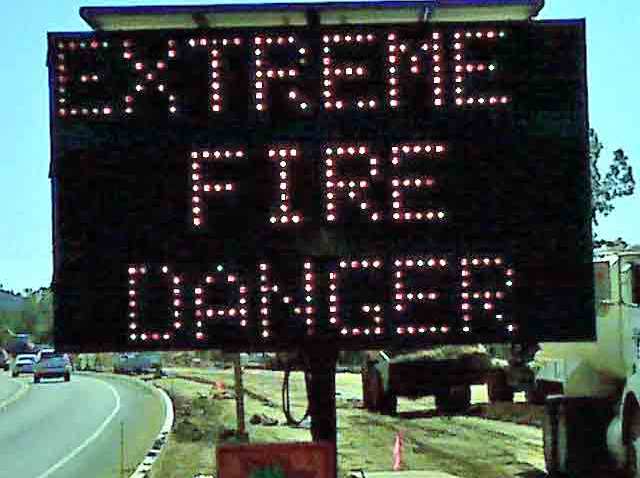 Will the Santa Anas that blew in Wednesday be a repeat of a week ago, when flames bore down on North Oceanside?
Nobody can say for certain, but weather experts and firefighters throughout the county have issued red-flag warnings, and all county residents can do is wait and cautiously hope for the best. For the second time in a week, a moderately strong Santa Ana condition is building, threatening homeowners from the Mexican border to the Orange and Riverside county lines.It's going to be in the mid- to upper 90s Wednesday afternoon in the warmest valleys, and with humidity levels lowering by the hour, the potential for disaster is extreme.
This latest bout with Mother Nature is actually a bit late getting started. In fact, San Diego woke up to a dense fog advisory before sunup on Wednesday morning, with patches of souplike fog scattered up and down the coastal strip. The thin marine layer proved that off-shore winds did not kick up overnight, at least not far south. Within an hour after the sunrise, there was further proof that drier, warmer air was moving in fast as the thin marine layer all but evaporated.
Strong winds began buffeting the canyons of north of San Diego early on Wednesday. Fontana Canyon in the Santa Ana Mountains registered gusts more than 40 mph. The winds, of course, are the big concern for firefighters. Even without them, any spark is a disaster waiting to happen, due to the thousands of acres of tinder-dry brush covering hillsides and valleys.
Still, it's the addition of Santa Ana winds blowing at upward of 50 mph that turn a potentially dangerous blaze into a fast-moving monster capable of scattering embers for miles downwind and causing flames to literally jump from hilltop to hilltop at an alarming rate. So far, winds around the county are normal.
Check in hour-to-hour for the latest information.