A new bike lane along Camino Del Rio S. in Mission Valley is causing confusion for cyclists and motorists.
The city added road markings for the new bike lane with the intention of making it safer for cyclists who want to reach the new State Route 15 Commuter Bikeway.
The project connects more than two miles between Camino Del Rio South and Landis Street along SR-15.
While the bike lane is marked, the city has not installed signs warning motorists to avoid parking in the area. So cars are lined up in the lane.
This forces cyclists to weave around the parked cars, in and out of traffic. Some of the cars traveling along Camino Del Rio S. can whiz by at 50 mph.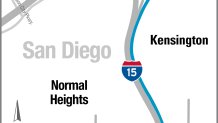 NBC 7 talked to the city of San Diego on Tuesday and it said city crews will install 'no parking' signs along the new bike lanes, which will mitigate the problem of parked cars along the bike path. The city did not give an exact date on when this would happen but estimated the 'no parking' signs should be up within a few weeks.
Even though there are no signs up yet, San Diego Police are ticketing cars parked in the bike lane.