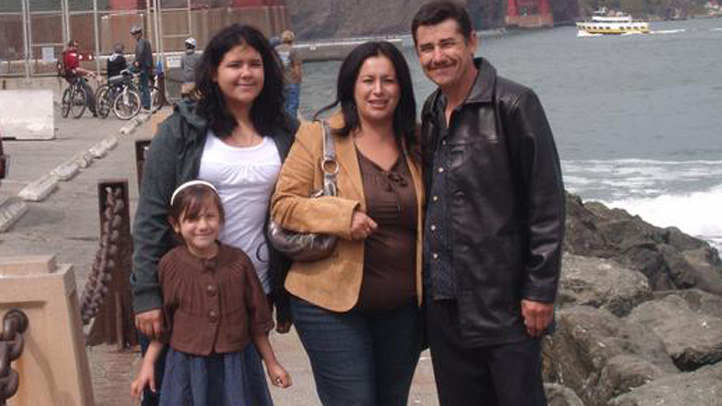 Captain Jim Collins at San Diego Police told the Union Tribune Wednesday that Alfredo Pimienta, 44, and his wife Georgina, 37, may have planned the murder suicide that took their lives and their two children.
Investigators believe Alfredo killed his wife and two daughters before committing suicide Tuesday morning at their Bay Terraces home.
He was apparently grief-stricken over his son's death and had marital issues, a source told NBCSanDiego.
Alfredo was the last of his family members to die at 162 Parkcreek Ct., according to a Medical Examiner's Office report released Wednesday.
A family member reported discovering the bodies at 6:40 a.m. Alfredo asked the relative to come to the property for a "business transaction," San Diego police said Tuesday.
Daughters Priscilla, 17, and Emily, 9, were found with Alfredo's body in the family's backyard swimming pool. His wife, Georgina, 38, was inside a bathtub, police said.
Alfredo's official time of death was 7:18 a.m. Emily's was at 7:15 a.m., and Georgina and Priscilla's were both at 6:47 a.m., according to the medical report.
The time of death is after the bodies were discovered because paramedics tried to resuscitate them when they were originally found.
A source, who spoke on the condition of anonymity, said notes containing revealing information were found at the residence.
Citing those notes, the source said Alfredo had serious financial and marital issues and struggled with his son's death, which occurred in 1998 and stemmed from a heart condition.
Captain Collins said investigators found at least one hand written note from Georgina, according to the UT. Collins wouldn't reveal the contents of the note but said it appears Georgina may have been involved in the murder suicide.
A police source said Alfredo's body was strapped to a heavy object when found in the pool.
There is no official cause in the Pimienta deaths. Police have not released an official suspect or motive.
The Pimienta and Villa families released a statement Wednesday, asking for the public's prayers and privacy:
On behalf of the Villa Family & relatives of the Pimienta we would like to thank the San Diego Police, the community & the media as a whole for their support at this very difficult time. We respectfully ask for privacy during our time of grief. We are working closely with investigators and only know as much as has been released. We once again thank you & ask that you keep the family in your thoughts & prayers. There are no memorial services scheduled as of this time.