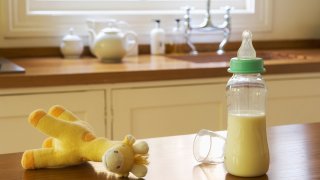 A new campaign aimed to improve birth and maternal health outcomes for Black families was unveiled Thursday by San Diego County leaders.
African American infants are more than three times more likely to die than white infants and African American mothers are two times more likely to die compared to white mothers, according to the U.S. Department of Health and Human Services' Office of Minority Health.
"Research suggests that chronic stress resulting to long-term exposure to racism and racial discrimination, particularly bias in health care access and delivery, plays a vital role in these adverse health outcomes for black women and their infants," said Dr. Wilma Wooten, San Diego County Public Health Officer.
In an effort to address the disparities, a campaign called Black Legacy Now was established. Comprised of government, maternal and infant health experts, public policy and heath care workers, the campaign will focus on creating awareness and a social movement to end the inequality experienced by Black women and their infants.
"Black Legacy Now is a bold, proactive initiative to make sure that Black infants, mothers and families are prioritized and there are long-term solutions to lift them up and ensure access to equitable health and equitable opportunities to live healthy lives," said Nathan Fletcher, San Diego County Board of Supervisors Chair at a press conference that unveiled the campaign.
During the press conference, San Diego OB/GYN Dr. Kelly Oberia Elmore said it is imperative for physicians to disregard their own personal biases to better serve Black women and women of color.
"We must eliminate personal biases, recognize the historical mistreatment of minorities by the health care system, advocate implementation of policies to eliminate racism, cultivate a diverse workforce," Dr. Elmore said.
To further raise awareness on the inequitable treatment experienced by Black mothers, two local women shared their personal stories of difficulties they endured during their pregnancy because of their race.
Darielle Blevins recalled her pregnancy with her daughter and how the doctor's disbelief in her words and concerns led to struggles she and her baby continue to face.
"I told the labor and delivery team that my water had broken over 48 hours ago," Blevins said. "Still, the doctor insisted on verifying this and did not listen to or believe me that I was leaking amniotic fluids. The doctor was not listening to my worries or concerns or didn't think my word was credible. From there, it was a snowball effect."
As hours passed, Blevins said her baby girl experienced "unnecessary stress and there was a concern that she was no longer getting oxygen." The mother suffered a fever and contracted an infection before she underwent an emergency C-section.
"Not only is my daughter paying the price for this experience, but I have also struggled," Blevins shared. "After birth, I experienced excessive bleeding and vomiting and had very little follow up from the doctors that delivered my baby."
"I'm sharing my personal story with you today to stress the vital importance of ensuring health care practitioners truly listen to and respond to all their patients, particularly Black women, who are so often overlooked."
Jordan Joshua, another San Diego-area mother, said she struggled to access care from a doctor during the first trimester of her second pregnancy. She said she was told there were quoting issues with her insurance and no one she spoke with was able to fix it.
"After being denied care from seven different doctors, I finally was able to be seen at a clinic at 19 weeks to have my first ultrasound and gain access to prenatal vitamins," Joshua said.
Joshua shared that she found a trusted doula and had a birthing plan that included minimal medication. She also said that she knew she didn't have any major health risk factors that would require a C-section for this pregnancy.
"When I went into a labor, I went to the hospital and due to COVID-19, my doula was not allowed to join me," Joshua said. "After checking the progress of my labor, the very first conversation with my doctor began with her anticipating the need for a C-section despite there being no complications in my labor and me already being seven centimeters dilated."
Jordan said at the press conference that when she was nine centimeters dilatated, her doctor ultimately decided she needed a C-section.
"I knew if my doula was there, I would not have been coerced into this unwanted procedure so quickly," Jordan said. "Being pushed into a surgery that you do not want or need is a traumatic experience."
"I'm here today in hopes to inspire the change to keep what I experienced from happening to other mothers and their children. Black women should feel safe, secure and should have their voice heard in regards to the care they receive."
Wooten said the county is working with the San Diego Black Infant Health Program to offer social support, stress management and empowerment to prenatal and post-partum groups for the campaign.
To learn more about Black Legacy Now, click here.