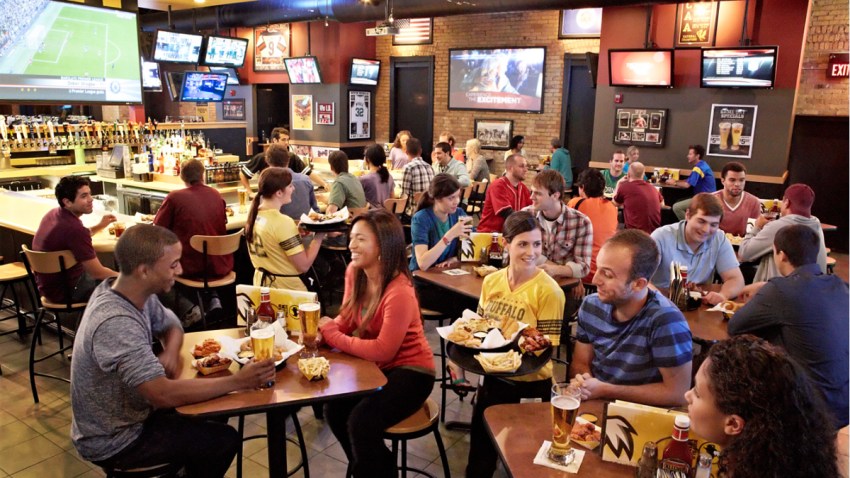 A new Buffalo Wild Wings is set to open in San Marcos next week and the restaurant's grand opening will include a giveaway of free wings for a year for the first 100 patrons.
The sports bar and grill – located at 1010 W. San Marcos Blvd. – opens its doors at 10 a.m. Monday. The first 100 guests in line will be treated to the eatery's "Free Wings for a Year" promotion, and will receive a coupon book with 52 vouchers for snack-sized wings – one order for every week of the year.
In order to get their hands on the free wings, patrons are encouraged to arrive to the opening early. They must remain present until the doors officially to receive the tasty prize.
Keeping with the Buffalo Wild Wings sports bar vibe, the San Marcos location boasts wall-to-wall HDTVs for lots of sports and events viewing. The menu includes boneless wings, burgers, sandwiches, salads and other offerings. Of course, the main attraction is the Buffalo New York-style chicken wings and 21 signature sauces and seasonings. On Tuesdays and Thursdays, traditional or boneless wings are available at a special price.
Buffalo Wild Wings, Inc., was founded in 1982 and is headquartered in Minneapolis. The chain currently has more than 1,080 locations across the U.S. and other countries. Locally, there are Buffalo Wild Wings eateries in Mission Valley, the Sports Arena area, Chula Vista, Eastlake, Santee, Encinitas, Oceanside and, now, San Marcos.