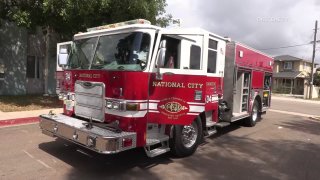 One woman has died and one man was hospitalized in an apartment kitchen fire that occurred Saturday, according to the National City Fire Department.
The fire broke out in an apartment at National City Park Apartments on F Avenue and East 24th Street at 11:19 a.m. and was extinguished by NCFD firefighters in about 10 minutes, according to an NCFD investigator, Robert Hernandez.
"Upon our arrival, we had found an individual that had been injured and a second individual who is now currently deceased," Hernandez said.
Firefighters found very little smoke in the apartment and no real fire other than some smoldering fire that was put out quickly, Hernandez said.
After the investigation, Hernandez found that the fire was a result of an accident after a piece of clothing ignited while the victim was cooking on a stove.
The victim was described as a woman probably in her mid-70s and the man hospitalized was described as a 50 to 60 year-old.
There was no further information about the two victims. The fire was contained to that only apartment, Hernandez said.
Hernandez told NBC 7 it's important to mention that every year there is a campaign for seniors to make sure they are aware these types of accidents can happen.
"In some instances, this happens more often in winter months when people are wearing robes, etc. Be mindful of our seniors and remind them cooking can be dangerous," Hernandez said.