When San Diego city water customers receive a water bill, and they feel the bill is charging them for more water than they used, their options for challenging the bill are limited. One of those options is to have their water meter tested.
NBC 7 Responds wanted to know if the city's water meter testing is treating San Diego customers fairly. After sharing the test results and the city's water meter testing process with one of the country's meter testing experts, he said he could not say the tests performed by San Diego's Public Utilities Department were done accurately.
La Jolla homeowner Julian Josephson said he was shocked when he received his October-December water bill, charging him triple the amount he usually pays.
"My daughter-in-law sent me a text and says, 'Is your water bill normally $1,902?'" Julian said.
Julian's not alone, NBC 7 Responds has heard from dozens of homeowners shocked after being charged for similar spikes in water usage. In most cases, the customer's water use returned to normal the following billing period.
Julian said the water department told him he must have a leak but after he hired professionals to check his property, no leaks were found. At that point, Julian turned his attention to the water meter, which had been replaced in 2015 under the city's AMI or smart meter program, according to data obtained by NBC 7 Responds.
"I'm worried if I've got a faulty meter that doesn't like me, and every third billing cycle spikes to $1900, that's not good," Julian said.
Julian requested what's called a "controversy test" or water meter test from the city and allowed NBC 7 Responds to document the process. Water Department crews came out to remove the meter from Julian's home and take it back to their facility for testing.
According to the Public Utilities Department, if a customer's water meter fails the city's accuracy test, the customer's bill can be adjusted. If the meter passes the city's accuracy test, the customer not only has to pay their bill, they also have to pay a $66 fee for the test.
"We have three tests that we run with the meter," City Water Systems District Manager Johnny Mitchell said, "We run a low flow, we run a medium flow and we run it on high flow."
NBC 7 Responds filmed the process and about an hour later, city crews determined Julian's meter was operating within standards and scored a 98.1% accuracy, meaning Julian would have to pay his $1,900 bill and the testing fee.
In some cases, Mitchell said the meter worked in favor of the homeowner. "This meter here under-registered," Mitchell said, "It delivered more water than it charged for."
Mitchell said since Julian's new AMI-ready meter was under-registering, it would not go back into circulation and would be scrapped.
NBC 7 Responds sent all of the water meter test footage to one of the country's experts in water meter testing, Tom Kelly. Kelly chair's the Meter Standards Committee for the American Water Works Association (AWWA), a non-profit organization that recommends testing standards used by cities across the country.
Kelly said while the equipment the city uses to test meters is valid, he would characterize it as "borderline obsolete."
"I would certainly think it would be time to upgrade that, it's not an inexpensive upgrade," Kelly said, "We had [that equipment] removed from here 20 years ago."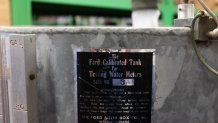 Kelly said he found various "inadequacies" throughout the testing of Julian's meter. One of those inadequacies was during the high flow test.
During the high flow test, Mitchell and other meter testers said 10 cubic feet or 74.8 gallons of water would be pumped through the meter at a rate of 40 gallons per minute. The test took longer than eight and a half minutes.
"You would have to be running a flow rate of a little less than nine gallons a minute for a test to take that long," Kelly said.
Kelly said the reason for this could be the water department's tank not being calibrated correctly.
Another point Kelly made about Julian's meter test had to do with another meter that was hooked up to the testing bench.
"You don't mix up meter sizes on a line when you're testing them in a series like that," Kelly said.
Kelly pointed out the city's testers had two, different size meters installed on the same pipe Julian's meter was being tested on and this could have thrown off the test results.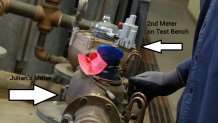 "If your meter is running fast and my meter is running slow and we use the same amount of water, you're going to pay more for your water than I pay for mine, and that's not fair," Kelly said.
When it comes to the billing complaints being heard across the city, Kelly said the best approach the city can take is being open with its customers.
"If you've lost the customer's confidence, you've lost everything," Kelly said.
NBC 7 Responds sent the Public Utilities Department a list of questions regarding Kelly's findings. The agency did not specifically respond to our questions.
Instead, Jerry McCormick, a communications officer for the city of San Diego, provided this statement, "We appreciate you bringing this to us. We are reviewing the American Water Works Association standards related to this matter. Based on analysis like this and the expanded audit now underway by our independent auditor, we will continue to implement operational changes as appropriate to ensure our customers pay only for the water they use."
There is more to this story, including what NBC 7 Responds found after requesting all water meter test results the city performed since 2015.
Kelly weighed in on that and more, click here to continue reading.