La Mesa Police have released surveillance video of the moment a suspect brutally beat a Navy veteran and clown at a trolley station.
On June 13, around 8 p.m., Frank Cerasoli, who performs as a clown for children, was in downtown La Mesa wrapping up a shopping trip for balloons and clown makeup at the Gypsy Treasure costume store.
As he left the store to make his way back home, an unknown man violently attacked him from behind at the La Mesa Trolley Station at 8248 La Mesa Blvd., police confirmed.
Cerasoli was left bruised and bloodied – and confused about what happened and why he was attacked.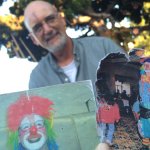 La Mesa police officers arrived on scene quickly, but the suspect was gone and no arrests were made. Many witnesses had boarded the trolley, too. Police launched an investigation into the battery case and said they're looking for any witnesses who saw the beating and may have more information on the suspect.
Police described him as a 17-year-old male with long, braided hair. At the time of the incident he was wearing a white sweatshirt, blue jeans and a black baseball cap with red tennis shoes.
Cerasoli told NBC 7 he left the costume store around 7 p.m. and walked toward the trolley station. During his walk, he came across a young couple.
He said the woman made a funny face at him, so he made a funny face back. Apparently, the woman's male companion did not like this exchange.
Before he could make sense of anything, Cerasoli said the man began pummeling him with his fists.
"I said, 'Hey, just let it go man. Let it go.' And he kept coming toward me and I was walking away," he recalled. "The next thing I know, I was 'Bam!' I got slammed at the back of the head and I went face down on the ground."
"I'm trying to tell the guy, 'Let it go. Get off me. Stop,'" he added.
After the beating, the suspect fled the scene.
When police officers arrived, they asked Cerasoli to give them a description of his attacker, but he didn't have much to share.
"I can't really tell you, exactly, what occurred," he said.
Cerasoli is a Navy veteran. When he was younger, he was involved in motorcycle accident that left him with short-term memory loss.
Today, if he wants to remember something, he has to write it down in a book that he keeps.
"If you want to know anything about me, it's pretty much in there," he explained.
Given that he was badly hurt in the Trolley station attack, Cerasoli said he wasn't able to write everything down about the incident before he forgot some of the details, including what the suspect looks like.
However, he said he'll never forget the attack – and how it made him feel.
"What he did was incorrect," he said of his attacker. "He needs to learn it within himself."
Cerasoli is well-known and loved by his community and often performs as "Scooter" the clown for children's parties. He said nothing brings him more joy than making people happy.
Now, his friends and neighbors are rallying around him, hoping his attacker is found and justice is served.
The beating remains under investigation and police are now looking at surveillance video of the attack, trying to zone in on the suspect. Police said they began investigating after they obtained videosurveillance from the trolley.
For now, police believe there are many more witnesses out there who have not yet come forward. Again, anyone with information on the case should contact the La Mesa Police Department at (619) 667-1400 or Detective Patrick of the La Mesa Police at (619) 667-7538.