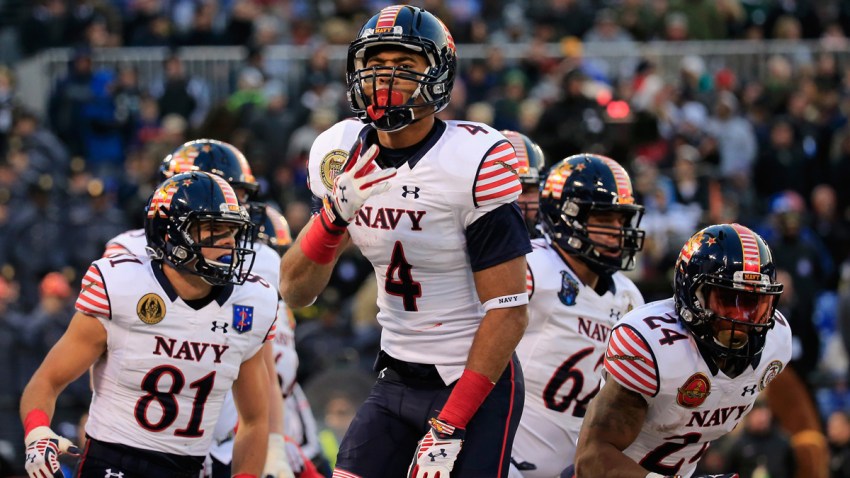 A big gridiron match-up is coming to San Diego's Qualcomm Stadium: The United States Naval Academy Midshipmen versus the Notre Dame Fighting Irish.
The San Diego Bowl Game Association (SDBGA) announced Wednesday that Navy will take on Notre Dame in a regular-season college football game at the stadium in Mission Valley on Oct. 27, 2018.
Navy and Notre Dame have met on the field 88 times since 1927. In 2014, the Fighting Irish defeated the Midshipmen 49-39. The last time Navy won was in 2010. Overall, Notre Dame leads the series 75-12-1, according to the SDBGA.
The October 2018 game will be the first meeting between these two teams west of the Mississippi and the first time Notre Dame has ever played in San Diego. The Naval Academy has played in the SDCCU Poinsettia Bowl four times in San Diego.
The SDBGA said a timetable for ticket sales will be announced at a later time. Holiday Bowl and SDCCU Poinsettia Bowl ticket members will have first priority to purchase tickets, but other football fans can also be placed on a waiting list. For info on bowl game tickets, call (619) 283-5808 or visit this website.
SDBGA President Kimberley Layton believes the match-up will be highly-anticipated by sports fans.
"When we had the opportunity to host a traditional matchup with two football programs of such legendary status, we jumped at the chance," said Layton. "We expect thousands of supporters from both teams to travel to our region to support their team which means an economic boost to our region."