A U.S. Navy crewman returns to San Diego and talks exclusively to NBC 7 about the recent rescue of a stranded mariner in the Pacific Ocean.
Helicopter Sea Combat Squadron 15 returned home Wednesday to Naval Air Station North Island.
Members of the Red Lion Squad rescued a 70-year-old mariner who was alone in his sailboat trying to cross the ocean when he called for help.
If the stranded man was hoping for an angel, he got perhaps the next best thing in Air Warfare Specialist second class Jarad Angel.
"He was very grateful to see us . Very relieved. He was a little out of it at the time but very grateful to see us," Angel said.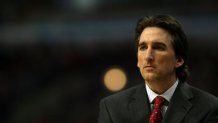 A photograph shows Specialist Angel, still in his wet suit, helping to carry the survivor aboard USS Carl Vinson.
Angel is a swimmer in the four-member search and rescue team that plucked the man from his 35-foot sailboat, 400 nautical miles from Hawaii.
"There could be sea predators. There could be something wrong with the aircraft," Specialist Angel said recalling his first-ever sea rescue.
The stranded sailor was out on the Pacific alone for 30 days.
Angel says he spent a couple hours with the sailor after the rescue. As for what the two talked about, Angel said he'll keep that to himself.
The rescued mariner's name was not released. At last check he was in stable condition and airlifted to San Diego ahead of this homecoming.
Pilot wife Emily Stewart saw the photograph on the news and scanned it really closely to see if she could spot her husband.
It turns out Lt. Ryan Stewart was piloting the rescue.
"I was surprised and proud of him. I hadn't heard about that yet," Emily said .
The family posed near the helicopter for pictures to celebrate his homecoming - a first with their new baby.
Images: Homecoming for Crew that Rescued Stranded Sailor
HSC-15 is part of USS Carl Vinson Carrier Strike Group scheduled to return to San Diego Thursday after a 10-month deployment.