Search-and-rescue operations are underway about 60 nautical miles off the coast of San Diego for five crew members who were on board a military helicopter that crashed into the sea.
Multiple Coast Guard and Navy air and surface resources are taking part in the search for the crew of the MH-60S helicopter, which officials said went down on Tuesday at about 4:30 p.m. PT.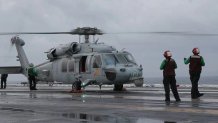 U.S. Navy Third Fleet spokesperson Lt. Sam Boyle confirmed one crew member had been rescued as of 9 p.m. As of 5 a.m. Wednesday, five crew members were still unaccounted for.
The rescued crew member's condition is unknown.
Military officials said the 64-foot aircraft, which weighs a little over seven tons when it's empty, crashed during "routine flight operations." The helicopter is assigned to USS Abraham Lincoln, a Nimitz class aircraft carrier homeported at Naval Air Station North Island, on Coronado.
---
Check back here for updates on this breaking news story.