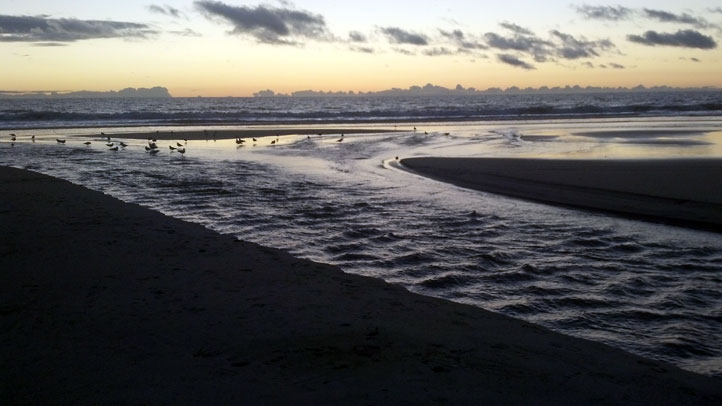 Think you've found the source of that mystery smell wafting through San Diego's North County? Don't hold your breath.
A group of Scripps Institution of Oceanography graduate students discovered a massive pile of methane seeping from sediment over 4,300 feet below the surface of the sea.
The students located the 1,000-foot-wide seep about 20 miles off the coast of Del Mar during an 11-day research cruise. Swaths of unique deep-sea organisms feed off the methane seep -- the only one of its kind near San Diego.
It was like finding another type of planet in their own backyard.
But when word got out about the exciting methane discovery, North County residents jumped to conclusions. Some blamed the seep.
"We think it was a really surprising coincidence that we happened to find this methane seep at the same time," said Benjamin Grupe, a UCSD graduate student who helped discover the seep. "But just because we discovered it doesn't mean it hasn't been there for hundreds if not thousands of years."
Many associate methane with the gas-like odor they detected Tuesday. But the methane Grupe and his peers found earlier this month actually doesn't have an odor at all.
And unlike the putrid smell reported to dispatchers all over the county, there's nothing about this discovery to be poo-pooed.
"We were actually really excited," Grupe said. "We had the goal of trying to identify a seep because it's such an interesting ecosystem in the sea. It means we can use that ecosystem to do more focused studies."
The only smell remotely associated with the ecosystem is from the organisms that live there. Most of the methane gets converted into carbonate rock or is consumed by the worm-like microbes feeding off of it. Animals like worms, snails and clams may feed on these microbes too.
"If methane does get into the ocean, it can presumably get into the atmosphere," Grupe said . "But it's not something that should be thought of as a hazard to people."
On land, there were no reports of gas leaks or spills. The U.S. Coast Guard also reported no incidents that may have caused the smell.

Follow NBC7 for the latest news, weather, and events: iPad App | iPhone App | Android App | Facebook | Twitter | Google+ | Instagram | RSS | Text Alerts | Email Alerts