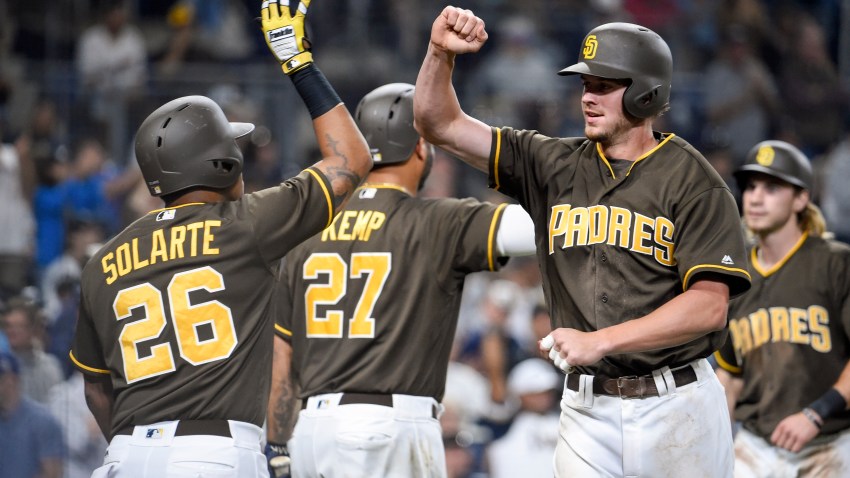 In the month of June Padres 1st baseman Wil Myers hit .327 with 11 home runs and 33 RBI. He even scored 25 runs. It appears that kind of production was not confined the calendar.

Myers went deep again on the first day of July, a 2-run shot over the right-centerfield wall to help the Padres take game one of a 3-game series against the Yankees 7-6 at Petco Park. Wil also lined a single to left field and walked to bolster his All-Star resume.

The long ball was the 19th homer of the season for Myers. He was joined on the "touch 'em all" team by rookie infielder Ryan Schimpf, who smacked the first home run of his big league career in the 2nd inning off Yankees starter Nathan Eovaldi.

It helped give Padres starter Colin Rea the breathing room he needed after a shaky start. Rea needed 27 pitches to get through the first inning but didn't allow a run to score. After that Colin, who celebrated his 26th birthday on Friday, settled in and threw just 63 pitches over the next 5.0 innings to earn the win.

San Diego led 7-2 at the start of the 9th inning. After trading closer Fernando Rodney to the Marlins the Padres had to find somebody new to handle the final three outs. They settled on Brandon Maurer, who had his work cut out for him in his first chance.

Matt Thornton came in and walked Brian McCann before hitting Starlin Castro with a pitch and giving up an RBI single to the pinch-hitting Alex Rodriguez. With two runners on and nobody out Maurer came in and immediately gave up a double to Didi Gregorius that cut the Padres lead to 7-4. An RBI groundout and a wild pitch brought in two more runs before Carlos Beltran laced a double to left-centerfield to put the tying run in scoring position.

But Maurer was able to get Jacoby Ellsbury and Brett Gardner to ground out for the final two outs, stranding Beltran and giving Maurer his first save of 2016. The Padres can win the series with a win Saturday night. Drew Pomeranz takes the mound against Ivan Nova.