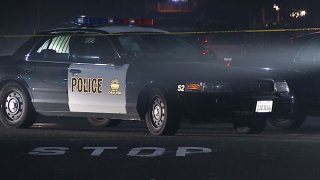 A man died early Sunday after being shot several times in Chula Vista, police said.
The Chula Vista Police Department said several people called dispatchers at around 2:30 a.m. to report the sound of shots being fired at 370 Moss St. The area is east of Interstate 5.
When CVPD officers got to the area, they found a man on the ground. He had suffered multiple gunshot wounds. He was taken to a local hospital, but he soon died.
The man was identified Thursday as 32-year-old Noah Copeland.
At this point, police have not yet released information on a possible suspect or suspects.
Anyone who may have any information regarding this incident is asked to contact San Diego County Crime Stoppers at 888-580-8477.
Check back for updates on this developing story.