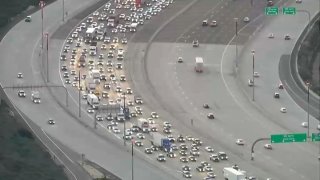 All lanes of northbound Interstate 5 have reopened after a multi-vehicle crash forced them to shut down early Friday.
Four vehicles were involved in a crash that began sometime around 4:45 a.m. on the freeway, according to California Highway Patrol (CHP) dispatch. The incident happened on I-5 north near Carmel Valley Road, just before State Route 56.
Debris from the incident spread across the freeway, snarling traffic. Thankfully, authorities were able to clear the lanes before the morning commute.
Details on what caused the crash were not available. Injuries were not immediately reported.
For a look at your local traffic, click here.