Authorities have uncovered a multi-state marijuana ring operating out of a Southern California beach community.
Officials claim three men in their 20s made up to $30,000 a week by shipping pot to cities all across the U.S. from Pacific Beach, an area known by locals as a mecca for the bar-hopping crowd.
The men's next-door homes on La Jolla Boulevard was searched Wednesday morning along with a warehouse on Gaines Street in the Midway District.
Inside the warehouse, investigators said they found a sophisticated grow containing more than 400 pot plants. Officers also seized $500,000 in assets including bank accounts, cash, cars, silver bars and firearms from the suspects that included an SKS rifle, a shotgun and a handgun. Ammunition was also found.
"I had no idea what was going on," neighbor Oliver Austria said. "Came out and saw all these police officers parked outside. Looked like, not sure if it was SWAT team, but they were dressed to the nines with gear."
Austria said he couldn't believe the scope of the drug bust in his Pacific Beach neighborhood.
"It's all a shock to me. I had no clue," he said.
The three suspects – Chris Gillen, 24; Kyle Gillen, 25; and Matthew Schneider, 28 – allegedly ran a highly-active marijuana ring via the U.S. Postal Service, mailing 15 to 20 pounds of pot to customers each week in several states including New Jersey, Texas, Florida, Wisconsin, West Virginia, Pennsylvania, Massachusetts and New York.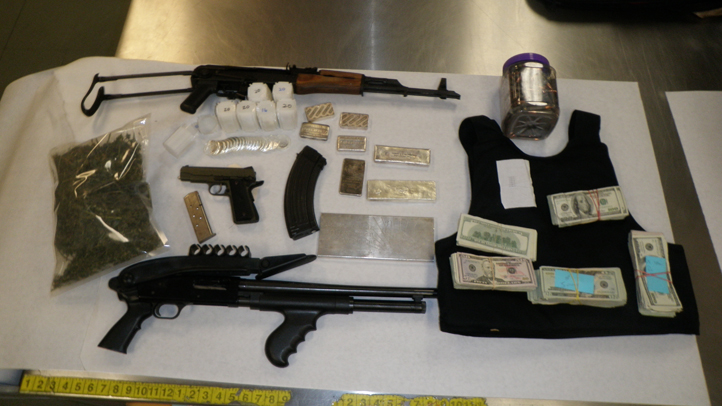 Lt. Lon Turner of the Chula Vista Police Department said the suspects also used the U.S. Postal Service to receive large sums of the money for the drug shipments - making up to $20,000 to $30,000 a week.
The bust was part of a yearlong investigation spearheaded by multiple agencies including the U.S. Postal Service and the Chula Vista Police Department's Southwest Border Anti-Money Laundering Unit, National City police, SDPD and deputies from the San Diego County Sheriff's Department.
The three men were arrested and booked into San Diego Central Jail on multiple charges, including money laundering, cultivation of marijuana, possession of marijuana for sale and conspiracy.
The three men appeared in court Friday for their arraignment (see photo below). They stood side by side as prosecutors laid out the charges against them.
Deputy District Attorney Stacey McReynolds said the investigation into the Pacific Beach marijuana ring began in July 2012 with officials from the U.S. Postal Service monitoring packages of money being delivered between the suspects and correspondents in the East Coast.
McReynolds said an anti-money laundering task force then became involved, investigating whether there was a reason why the suspects were receiving so much money in the mail.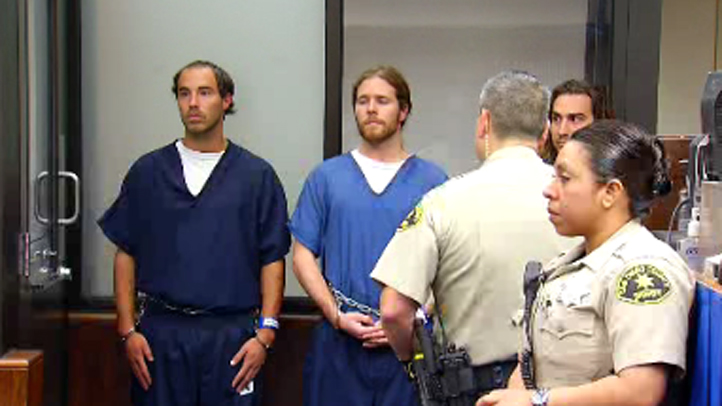 Through surveillance, McReynolds said investigators were able to link the Gillen brothers and Schneider to the marijuana grow at the warehouse on Gaines Street.

According to McReynolds, the suspects were allegedly shipping marijuana grown in San Diego to the East Coast, with cash payments for the weed being mailed or wired back to them.
They used several different mailboxes to conduct their business.
McReynolds said investigators tracked more than 150 pounds of pot allegedly shipped by the defendants to the East Coast, where McReynolds said a pound of pot sells for up to $6,000.
The prosecutor said the marijuana grow operation allegedly spearheaded by the suspects was extremely sophisticated and contained more than 400 plants growing in different stages.
McReynolds said the plants were on different timing cycles and the warehouse contained advanced growing equipment.
On Friday, a judge set bail at $150,000 for each of the defendants. All three are scheduled to appear in court again on Jun. 11.
McReynolds said the Gillen brothers are both local college students who are originally from New Jersey, where much of their marijuana was allegedly being shipped. Schneider is a native San Diegan.

If convicted, McReynolds said Kyle Gillen and Schneider could face up to 10 years in prison. Chris Gillen could face less time because investigators believe he wasn't as heavily involved in the pot ring as the other two suspects, McReynolds said.