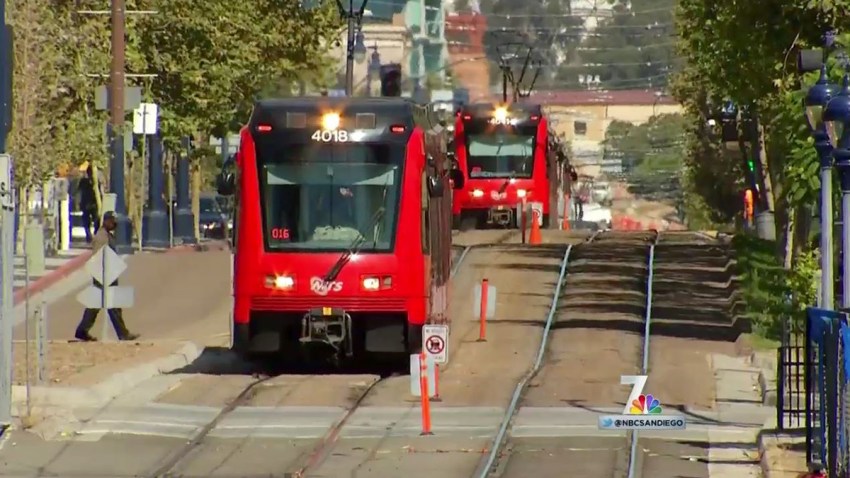 Football fans heading to the Thursday night San Diego Chargers game against the Denver Broncos are encouraged to take the trolley to Qualcomm Stadium and to hop on board early if possible.
The 5:25 p.m. home game coincides with the peak evening commute. In an effort to ease traffic congestion in the Mission Valley area around the stadium, the Metropolitan Transit System (MTS) will boost the number of pre-game and post-game Green Line trolleys that provide direct service to the stadium.
MTS says Green Line trolley frequency will increase from the Old Town Transit Center and Qualcomm Stadium at 1:30 p.m. After the game, extra Green Line service will be run in both directions to service the crowds of fans.
MTS expects Green Line trains to be crowded or at capacity by 3:30 p.m. Thursday. Passengers trying to board after that time should expect delays – especially at stations closest to the stadiums where trains will likely be at capacity.
MTS says some locations where passengers can park for free before hopping on the trolley include:
• Grantville Trolley Station, with 404 free spots
• Old Town Transit Center, with 412 free spots
• El Cajon Transit Center, with 469 free spots
The Hazard Center Trolley Station also has 1,500 free spots, but only after 5 p.m., MTS says.
Fans can bypass long lines by purchasing their trolley tickets on their mobile device via MTS' free mTicket app.
If you're in the market for a little souvenir from Thursday's game, MTS says it has printed a limited quantity of commemorative San Diego Charger game day passes. Those $6 passes are sold at the Transit Store and at ticket booths along Green Line Trolley stations between Old Town and Grantville.