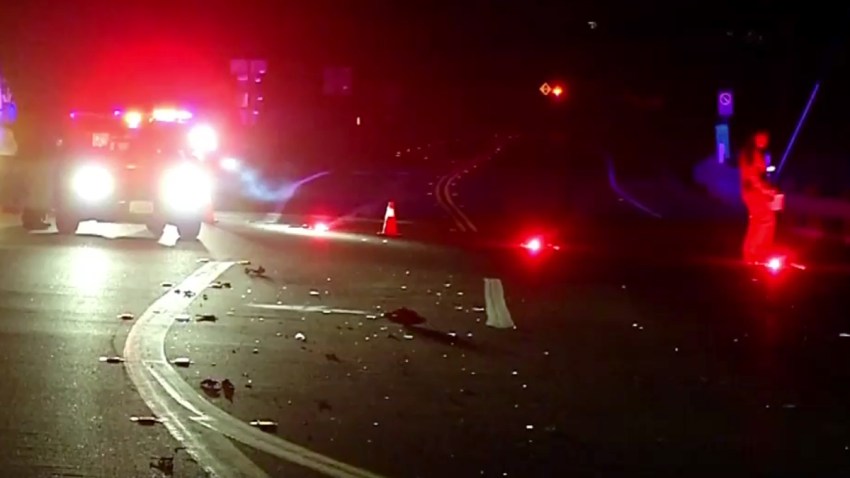 The San Diego County Medical Examiner's office has released the names of two men – a motorcyclist and pedestrian – killed in a crash in unincorporated Rancho Santa Fe earlier this week.
According to the medical examiner, Oceanside resident Hugh Williams, 60, was the motorcyclist killed in the double fatal collision, which happened Sunday just after 7 p.m. on Del Dios Highway near Date Lane.
The pedestrian killed in the crash has been identified by the medical examiner as Alan Hopkins, 31.
California Highway Patrol officials said Hopkins was walking with several friends on Del Dios Highway when he was struck by Williams, who was on his motorcycle.
CHP Officer Jim Bettencourt called the deadly collision a "tragic accident."
"Unfortunately, at this time in the evening, a motorcyclist doesn't expect a pedestrian to be standing in the road. There was nothing the motorcyclist could do," Bettencourt told NBC 7 on Sunday.
Hopkins' friends, who were not hit in the accident, told officers they had been out on a group nature walk in the Del Dios Highlands Preserve just before the accident.
Following the crash, CHP officials issued a SigAlert in the area, shutting down Del Dios Highway for more than three hours as investigators gathered evidence and cleared the scene.
According to the medical examiner, Williams was driving his motorcycle at approximately 60 mph. Just as he approached Date Lane, Hopkins and another pedestrian ran out into the roadway.
Hopkins' group of friends told investigators that Hopkins and the other pedestrian had run across the northbound lane and as they got to the center of the road, they looked at southbound traffic. They saw the motorcycle driven by Williams approaching the intersection but thought they could beat it.
The pair darted across the roadway and Hopkins was fatally struck by the motorcycle. The second pedestrian made it across the street unharmed.
The medical examiner said Williams attempted to avoid the pedestrians by swerving to the left but was unable to do so. After he struck Hopkins, Williams' motorcycle veered off the road and struck a curb, followed by a street sign. He was then ejected from his bike.
Both men sustained multiple critical blunt force and blunt impact injuries in the accident and were pronounced dead at the scene.