The mother of a woman arrested Friday for striking and running over a motorcyclist on a busy San Diego highway said Saturday her daughter is not a murderer.
"They made it sound like she viciously went after him," said Margie Jackson, the mother of Darla Renee Jackson. "Please, who does that? No. Not my daughter."
Imperial Beach resident Darla Renee Jackson, 26, was driving a black Nissan Altima northbound on Interstate 5 near E Street in Chula Vista at around 5:30 p.m. Thursday, California Highway Patrol (CHP) officers said.
"You say it's an accident? For sure," Margie said. "Police saying it's murder? Well, you have to know the facts."
CHP officers said Jackson and a man on a red Ducati motorcycle got into some type of disagreement on the roadway.
After the two drivers transitioned from I-5 to eastbound State Route 54 and passed National City Boulevard, Jackson hit the Ducati from behind and ran over the rider, CHP officers said.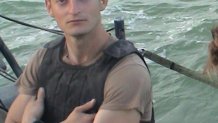 The motorcyclist — identified by friends as 39-year-old Zachary Buob — died about an hour later at a hospital. A Santee resident, Buob was an active duty Chief Petty Officer in the Navy's special operations.
Jackson was arrested and now faces one count of murder in what officers are calling a road rage incident. She was booked into Las Colinas Detention and Re-entry Facility and is scheduled to appear in court Tuesday.
Margie said she was not with her daughter duing THursday's deadly wreck, but said she has spoken with her and says she is not a killer.
"He kicked her car like five miles back and he was driving crazily, trying to cut lanes, and when he kicked her car she wanted to get a license plate number," Margie said. "So that's what she tried to do and it was definitely an accident."
Margie said her daughter is a loving mother of a little three-year-old and is sad and lonely, thinking about her daughter.
Describing the victim, friend Kathryn Cramer said Buob served in the military for more than 20 years and completed many tours overseas.
"He was so strong but his heart was so sweet," she said in an email. "He was truly one of the 'good guys' and my heart is broken. My prayers are with his Mom and Dad and family. He loved them so much."
Another good friend, Tim James, told NBC 7 Buob worked as an elite special boat operator, but motorcycles and trucks were his passion — only overshadowed by his love for family and friends.
"Zach was energetic, intelligent and a superb leader. He would light up any room he entered with his friendliness and wittiness...a heart of gold," said James in an email.
Investigators are in the process of tracking down drivers who may have witnessed the act of road rage from start to finish. Anyone who may have seen anything involving these two vehicles should contact the CHP investigator at (619) 220-5492.
CHP Officer Jake Sanchez warned drivers Friday to not let road rage ever escalate to such a deadly point. He warned drivers not to pick fights with others on the roadway because you don't know what that person may be going through or if that person could be capable of something like this.