A veteran of the San Diego Police Department was stabbed to death in her own home alongside her teenage daughter, a recent high school graduate and talented athlete.
Residents of a Rancho Penasquitos neighborhood were awakened by screams Monday morning.
Soon after, San Diego police officers discovered the bodies of Donna and Briana "Bree" Williams at a nearby home. Each woman had suffered numerous stab wounds.
The suspect, identified as Donna Williams' 24-year-old son Brian Williams, was calmly sitting next to his dead sister in front of the home when police arrived. He did not resist arrest and did not appear to be under the influence of drugs or alcohol officials said.
Around 1:30 a.m. residents called 911 after hearing screams coming from inside the home.
"I was just freaking out. I wanted to go look out the window but I was scared, my heart started beating really fast," said neighbor Tiana Castano.
San Diego police arrived to a gruesome scene. Officials say the naked body of Briana Williams, 18, was found on a walkway near the driveway. She had suffered knife wounds and had either fallen or was pushed from the second-story window. Officers called for paramedics but they were unable to save her.
Inside, officers found Donna Williams, 52, a detective in the SDPD Child Abuse Unit. She too had been stabbed.
"Obviously this has a big impact on everyone in the department especially those in the Child Abuse Unit," said Capt. Jim Collins.
Collins described Williams as a very caring person. Her death has greatly impacted the department.
"She was a great woman. She was considered the matriarch or the Queen Mother of the Child Abuse Unit. She was always there for everybody," he said. "A very caring person."
Bree Williams graduated from Mt. Carmel High School in 2011. She was a standout pitcher who played for Mt. Carmel and was committed to continue her career at the Academy of Art University.
A sign posted at the school's softball field reads "Rest in Paradise Bree Williams... We know you are in a better place now."
"She had so much going for her. She was about to go to college. It's just tragic that someone with do much could be taken away," said Jessie Spence, Bree William's friend.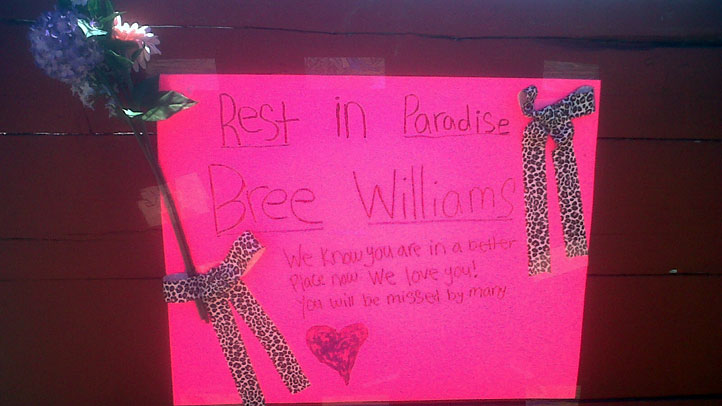 Brian Williams is the son of Donna and her late husband Howard Williams who was a SDPD officer from 1972 to 2007. He passed away of natural causes.
Police sources say Brian suffers from schizophrenia and on June 30, officers were called out to the family home after Brian caused a disturbance.
Sources say Donna had been upset with her son because he wasn't taking his medications for schizophrenia and threatened to kick him out of the house.
Schizophrenia is a mental illness that can lead to violence if not treated with medications, according to psychiatrist Clark Smith, M.D.
"It affects the way people think, often causing paranoia, delusions and even hallucinations,"said Dr. Smith.
Collins said he knew the Wiliams family personally for many years, having attended the police academy with Howard William.
"We are a family," Collins said of the police department. "A case like this is devastating."
All three family members lived together in this home police said. Donna Williams had a 28-year-old daughter who does not live in the home police said.
Detectives located a large kitchen knife on the front lawn that they believe is the murder weapon.
When she was found, Donna Williams was wearing street clothes and may have been watching television officials said. Her daughter was found in the nude which may be consistent with the manner in which she typically slept police said.
Brian Williams has been booked at the county jail facing two counts of murder.