More than 100 animals from Louisiana will land in San Diego Monday thanks to a "Wings of Rescue" flight.
Twenty dogs and 85 cats from a shelter in Lafayette are coming to San Diego to make room in Louisiana for animals left stranded by the flooding and torrential rains in Texas. Those animals are expected to arrive at the Lafayette shelter as soon as the San Diego-bound pets leave.
The animals will board their flight in the morning, and the plane is scheduled to arrive at Gillespie Field around 2 p.m.
The pets will go to Labradors and Friends Rescue, San Diego Humane Society, and Rancho Coastal Humane Society.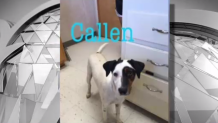 Labradors and Friends is in need of in-home foster care providers to assist with the incoming dogs. For more information contact Lauren Dube at 619-990-7455 or dogs@labradorsandfriends.org
Each organization is accepting donations to help with the cost of the flight and medical care for the pets.
The animals are not victims of the storm and will be available for adoption.