More than 100 firefighters from San Diego County are in Laguna Niguel Wednesday night assisting a coastal fire that has destroyed at least twenty homes.
Roughly 120 firefighters from various fire agencies including San Diego Fire-Rescue, Chula Vista Fire Department, Poway Fire Department, National City Fire Department, North County Fire Protection District, Vista Fire Department, as well as Cal Fire San Diego are in the Orange County area helping fight the fire, they confirmed to NBC 7.
The fire was reported at 2:44 p.m., Orange County Fire Authority Capt. Sean Doran said. The fire grew to 200 acres by 6 p.m.
The Flames reached several multimillion-dollar estates on a hillside overlooking the ocean.
Details about how the fire started at roughly 3 p.m. were not immediately available. No injuries have been reported.
San Diegans reported seeing smoke in our skies by late afternoon. A viewer sent the following photo of smoke seen in Oceanside.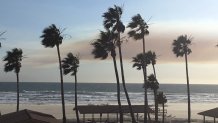 For the latest details on the fire, click here.