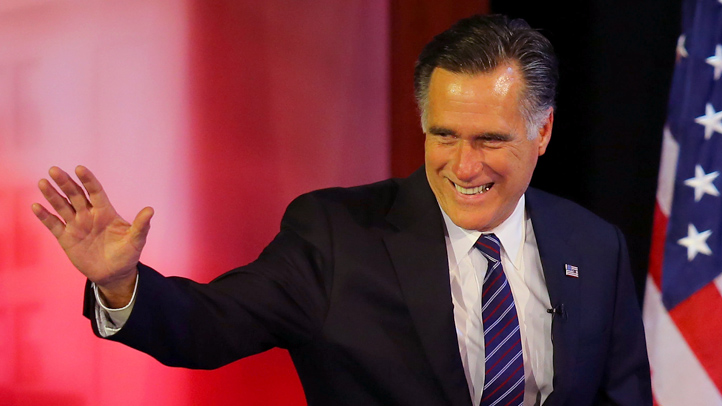 Could Gov. Mitt Romney move to San Diego?
Questions about the former presidential candidate's future are swirling, including whether that future means a more permanent presence in California.

A supporter of Romney recently told The Boston Globe that the former candidate and his wife are considering a permanent move to La Jolla, where he already owns a home on Dunemere Drive overlooking the water.

Romney's La Jolla home is fittingly named Fin De La Senda, Spanish for "end of the road."

The former candidate visits the home frequently and made plans to remodel before the campaign took over his time. But now Romney is plenty free, as his presidential dream is dashed.

A city application notice from April still hangs informing the neighborhood of plans to bulldoze the current home and replace it with an 8,100 square-foot mansion – more than twice its current size, complete with car elevator.

But, the city of San Diego states the project is on hold at request of the applicant.

In the meantime, it's the big plans for the house that has everyone in the coastal neighborhood talking.

Mark Newcomer, who lives right across the street from the Romney home, is curious what the family will do with the existing property.

"There's definitely lots of rumors that are always floating around," he said. "We don't know is the short answer. We've heard it's something that was going to get done after he won the election, or if he won the election, or if he didn't win the election would be a good time to do it because doing that sort of work while you're in office is maybe tough to manage."

When Mitt returns some neighbors said they'll be glad the secret service isn't with him - recalling times earlier this year when they'd need to stop and show Identification to drive down the one-way street.

"It's been a little nerve racking you know," said neighbor Randy Clark. "They take up extra parking spots that's for sure, other than that they tend to be really, really nice people and engaging."

Other neighborhood rumors include Romney buying the house on a bigger lot next door, as it's under renovation and belongs to a friend and major contributor to Romney's campaign.

While many questions remain, Romney's political future is certain: He won't be residing at 1600 Pennsylvania Ave. any time soon.