A man who helped plan an "underground" New Year's Eve party that was cut short just before midnight when a raised platform collapsed and injured three people said illegal parties hosted during the pandemic are a means to get by.
A party coordinator offered details about the bash to NBC 7 under the condition of anonymity.
He said Thursday's party wasn't unique. The pandemic brought the club and live entertainment industries to a screeching halt, so organizers and promotors have turned to throwing secret parties like this one to get by.
"It is a risk we accept. This is how we get by. We can't survive on government assistance," the coordinator said.
According to the coordinator, 233 tickets for the party were sold in November and around 150 people showed up. ID's, facemasks and temperatures were checked upon entry, but the coordinator admitted there was no real mask oversight inside the party.
Tickets for the alcohol and marijuana-friendly party ranged from $15 to $20, and $10 extra got guests into the VIP section with free drinks. General admission ticket buyers could bring their own alcohol.
The coordinator said guests were 18 to 22 years old.
Nearly 23% of San Diego County's reported COVID-19 cases involve patients 20 to 29 years old, and the county is in the midst of an extended case surge realized in the weeks following Halloween and exacerbated by holiday-related gatherings and travel throughout the fall.
On top of that, most of the state is under a stay-at-home order implemented to combat a hospital bed and staff availability crisis. Elected leaders, health officials, and law enforcement agencies urged San Diegans to celebrate New Year's Eve safely.
"We're caught in the middle with some people saying we're wrong and others say thanks for the opportunity," the coordinator said.
The trouble came at around 11 p.m. when the floor of a raised platform inside collapsed under the weight of too many people. The coordinator said the platform's capacity is 20, but nearly 60 guests found their way onto the wooden structure and it gave way.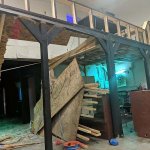 "It kind of felt a little shaky earlier in the night," party goer Isaiah Paiter told NBC 7. "Too many people on it, it kind of just fell through and a couple people fell. It was really unfortunate."
At least three people were injured when the platform gave out.
San Diego police and San Diego Fire-Rescue firefighters responded to the bulding on Trade Street off Camino Santa Fe, north of Miramar Road. An NBC 7 crew arrived as guests were filing out.
The party organizer who rented the space was cited for defying the county's public health order and fined $1,000 according to a copy of the citation.
The coordinator said the space is available for rent for $1,500 to $2,500, but he was unsure what the organizer paid to use the space on New Year's Eve.
A neighboring business owner said the warehouse has long been a nuisance.
"The guys next door to us have been hosting parties constantly over here, I guess ignoring the COVID rules and regulations and just doing their own thing and not adhering to any stipulations," Sydney Rosin, owner of City Signs, told NBC 7.
Rosin said several parties have been held at the warehouse next door to his business. Next to City Signs rests two vacant suites – one directly next door and another above. Both warehouses are rented by the same person and have been used for parties. It is unclear if the person renting the units is the one responsible for throwing the events or if they are subletting the space.
Rosin said he is worried the public will falsely assume City Signs has something to do with the parties. Rosin said he's reported the events about "three or four times" to 211 but has not seen any action taken.
"We felt we could never call a certain number to have them take action immediately. They would just take it under review, write the documentation down and say, 'OK, we'll review it,' which I feel is very wrong."
The property manager has also been made aware of incidents and they've said a board meeting will be held regarding the matter. However, nothing has been done, according to Rosin.
Although having yet another party thrown next door to his business was not the ideal way to end the year, Rosin said he was "relieved" that the incidents are coming to light.
"The reason being is that hopefully something will be done about this now as opposed to me being upset about this for months and months on end," he said. "I just felt my hands were tied so hopefully now, something can get done about this and people can move on and do what they're supposed to be doing."