On a recent sweltering September afternoon in Southern California, Melissa Sargent stood by her father's bedside. The back bedroom in Alex Morgan's Lakeside home resembled a hospital room and was filled with the low hum of several fans keeping him cool.
As dad and daughter chatted, his hand rested on the mane of a gentle mini horse named Tori. The gray animal stood motionless, wearing a red and white polka dot bow on her head, and custom-made pink floral booties and a saddle blanket.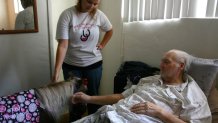 "Should have brought her a biscuit," Morgan joked. Morgan was having a good day, considering the stage-four cancer spread throughout his body.
Tori has often been by his side as he fights the disease. The 17-month-old mini horse is a part of the family. She is also in training with Sargent to become a certified therapy animal for hospice patients, children with disabilities and others.
Sargent, a certified animal handler, founded the non-profit organization Heart and Hooves Therapy less than a year ago. She also has a 14-year-old mini horse named Chips.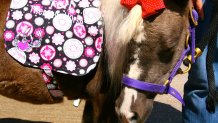 They visit preschools, senior citizen homes and hospice centers. They also spend time at Casa de Amparo, which serves abused and neglected children, and the Ronald McDonald House, a temporary home for families with children in the hospital with serious illnesses.
"I'll never forget the first time Tori walked up our front steps with Melissa's coaching," Ronald McDonald Volunteer Coordinator Jaime Groth told NBC7. "There was a crowd at the top of the stairs eager to meet her before she'd ever even entered the front doors."
She said the families light up when they see the mini horse.
"What's cuter than a child hugging a horse their size who's dressed in an adorable outfit and does tricks?" said Groth.
Sargent teaches all of those she visits about basic horse safety and care, with the goal of helping them feel confident and capable. She knows all too well how the companionship of animals can help in tough times.
"I went through a crazy childhood," she said. Her birth mother was a drug addict and she was placed in the foster system.
Eventually, Alex and Linda Morgan adopted her. Under their guidance, horses became a huge part of her life. As a freshman in high school, Sargent got a job at East County Feed in Santee so she could buy a horse. Her dad helped her set up the $100 a month payment plan.
"I got into horses to help cope with many different feelings I was having. They were my go-to every day and taught me so much," said Sargent, "It was my outlet."
Sargent was the first of six girls the Morgans adopted out of the foster system. One of them, Christina, was severely handicapped. Sargent says Christina's birth parents broke every bone in her body and doctors didn't think she'd make it to her first birthday. She survived much longer than that, but would never talk or walk. Sargent and her mom were Christina's caregivers.
"My mom taught me a lot about care and compassion," Sargent said.
Christina passed away this June at 26, but not before she got to meet Chips. Sargent said her sister loved to pet the mini horse, and the experience reaffirmed her commitment to helping others like her sister.
"They have no life, they don't make friends they don't get experiences that children should get," Sargent said, "It's sad."
She said she is also inspired by another one of her adopted sisters, Rebecca, who was born with spina bifida and is in a wheelchair, but helps care for Chips and Tori.
"Kids that are like her, they get the impression that they can't do it because they're different," she said, "For me, it's extra fulfilling to be able to see them succeed and feel that confidence of, 'hey I can do this! Wow, this is really cool!'"
It's not just the humans associated with Heart and Hooves Therapy who've overcome great challenges. Chips came with a tragic story of his own. His owner got a divorce, left the state, and abandoned him.
"He was so scared and clearly abused in some shape or form, he just wasn't what he is today," Sargent said.
She rescued Chips and worked with him until he was able to take the test to be a therapy pet. He got the highest rating offered from the organization Pet Partners, which tests such animals. Tori will be tested in January.
Companies have been sponsoring the cost of the off-site visits in the community with a $150 donation. Heart and Hooves Therapy also offers pony play dates at its home in Ramona. The 30 to 45-minute sessions with one of the mini horses cost $25.
In the short term, Sargent is focused on raising money to help her father fulfill his final wish of visiting Idaho with all of his children before he dies. In the long term, she hopes to continue to grow the non-profit that has made her father so proud.
"This has always been something I've wanted to do, to incorporate animals and the kids and giving back," said Sargent, as she continued to stand with Tori by her father's side, "So it just came full circle."