A tourist on vacation in the United States from Poland is now considered a missing person in San Diego County after a week of having no contact at all with his family back home.
The San Diego Police Department released a missing person bulletin Thursday for Michal Marcin Krowczynski, 30. Police said Krowczynski had been on vacation in the U.S. and was supposed to catch a return flight home last week, only, he never boarded the plane.
The last contact he had with family or friends was one week ago, on Jan. 17.
"More or less every day he has some contact with family or friends," Michal's brother, Lucasz Krowczynski, told NBC 7 Thursday night. "We are trying to do everything we can do to help him."
Lucasz said Krowczynski is a high school math teacher in Poland and would never miss school. He's also pursuing a Ph.D. back home.
According to his brother, Krowczynski's vacation plans involved visiting a friend in Phoenix, Arizona, and then traveling to San Diego. He was supposed to catch a flight back to Phoenix the night of Jan. 17 and then head home to Poland a couple of days later. He missed both of those flights.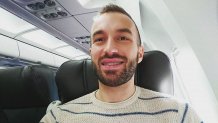 While in San Diego, Krowczynski had dinner with friends. He was staying a the La Jolla Biltmore Motel on La Jolla Boulevard and was last seen in La Jolla.
Krowczynski's friend, Katarzyna Kijana-Palck, said he was in a great mood the night before he went missing.
She told NBC 7 she retraced Krowczynski's steps and found out he checked out of the La Jolla Biltmore Motel at 11 a.m. on Jan. 17. Kijana-Palck said Krowczynski asked motel employees to hold his luggage until he could pick it up around 4 p.m., but he never returned to claim his bags.
According to police, Krowczynski's social media accounts showed several posts made throughout San Diego before he vanished.
Investigators said Krowczynski has never before been reported missing and, as the police bulletin stated, "the circumstances surrounding his disappearance are considered unusual."
Krowczynski is described as 5-foot-9 and 180 pounds, with short, brown hair and green eyes. In two photos released by police Thursday, Krowczynski is wearing braces.
Krowczynski's family said they have reached out to the Polish consulate in Los Angeles to see if there is anything they can do to help find their loved one.
Anyone with information on Krowczynski's whereabouts can reach out to the SDPD at (619) 531-2000 or the SDPD's Missing Persons Unit at (619) 531-2277.