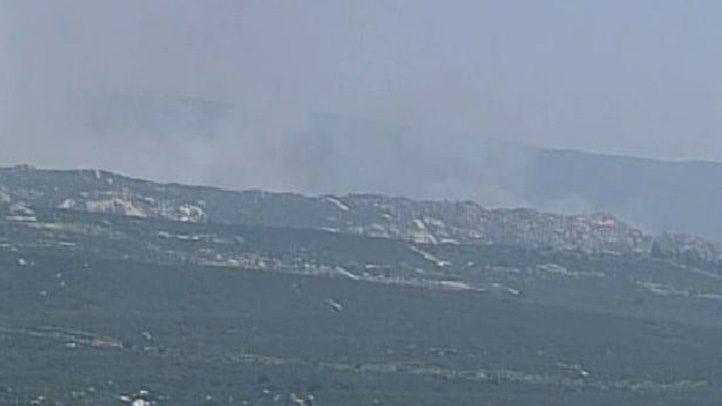 A fire that started in Mexico has grown and is now burning into the U.S.
Approximately 600 acres have burned as of 11:30 a.m. Thursday in the area south of Boundary Peak near Jewell Valley.
About 15 acres of U.S. Soil was burned, but the fire has been contained on this side of the border, authorities said. However the fire is still actively burning eastward in Mexico.
The nearest communities are Boulevard and Jacumba however no structures are currently threatened.
CalFire sent an update reporting a southwest wind is moving the fire to the northeast.
There are currently 11 engines, eight fire crews, two bulldozers, two water tenders, three helicopters and two air tankers working the fire according to CalFire.
CalFire sent another update around 6:40 p.m. reporting that unexpected gusty winds jumped the containment lines so the fire is now at 100 acres and 10-percent contained.

"The winds have once again diminished and the fire's spread has slowed. Cooler temperatures and less winds are expected this evening," said CalFire in the statement.

The plan is to keep firefighters on scene all night.

CalFire said there is still no threat to structures.
By Friday at 5:45 p.m., CalFire reported that the fire in Jewell Valley was 100-percent contained.
Follow NBCSanDiego for the latest news, weather, and events: iPad App | iPhone App | Android App | Facebook | Twitter | Google+ | Instagram | RSS | Text Alerts | Email Alerts