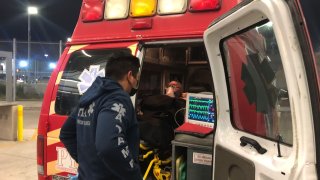 Meghan Markle's father was rushed from Tijuana to a Southern California hospital Tuesday morning.
Thomas Markle is the father of the the Duchess of Sussex, who is married to Prince Harry, and has lived in Baja, California for several years. Riding in a Pya ambulance on Tuesday, Thomas Markle was taken by paramedics through the San Ysidro Port of Entry en route to a hospital in South Bay.
One of the paramedics who transferred Thomas Markle to Sharp Chula Vista hospital said the patient "showed signs and symptoms of a cerebral vascular accident."
A source told NBC 7's sister station Telemundo 20 that Thomas Markle had heart surgery at Sharp Chula Vista in the past after suffering a pair of heart attacks.