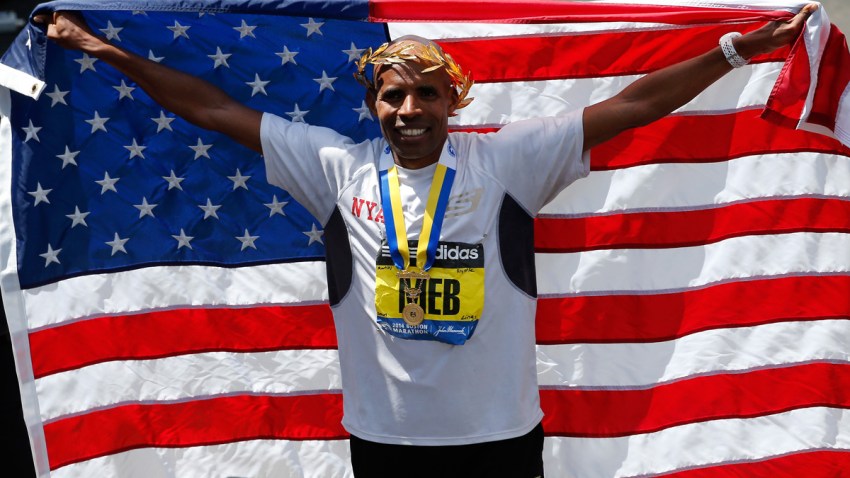 San Diego's Meb Keflezighi – the runner who won the 2014 Boston Marathon – dreams of a repeat performance this year, calling last year's accomplishment "the most meaningful victory" of his life.
According to Universal Sports Network, Keflezighi is pumped up to cross that finish line first when he runs the famous marathon again this Monday in Boston.
"Winning the Boston Marathon will always be my dream and to be able to win, to be able to pull a victory at the 2014 [marathon] – it was huge," said Keflezighi in an exclusive interview with Universal Sports Network. "And for me, just try to do what I do day in and day out, get the best out of myself and keep pushing and to go back in 2015. You know, you cannot replicate what happened last year – last year was special – but at the same time, I'm a competitor and I want to go there and compete and see if I can win it again."
Since the unthinkable bombing at the marathon in 2013, the image of the race has been forever changed. As reigning champion, Keflezighi knows he is part of that new image.
"Being the Boston Marathon champion especially after the bombing, my life has changed to tremendous amount, but at the same time with it comes big responsibilities," he told Universal Sports Network. "Being able to pull that victory changed my life. And it's been an amazing journey but family time is less now and a lot of appearances but at the same time that's the reward for pulling a big, big victory and it's the most meaningful victory in my life."
The runner said his favorite memory from last year's marathon was bringing home the win for the U.S.
"Boston 2014 was special for me, for the United States, for Boston especially, because we changed what was a catastrophic moment on Boylston Street in 2013. And to chant 'USA-USA' coming down Boylston Street is a moment you can only imagine and dream about, but to actually do it on April 21 of last year was a memorable time for me and every one there," he recalled.

Keflezighi said the key to running the Boston Marathon is patience and finishing strong.

Keflezighi won the 2014 Boston Marathon with the second fastest time for an American man in the history of the event. He was also the first American to win the Boston Marathon since 1983.

At the same time, the athlete also set a personal record, crossing the finish line with one fist pumping in the air with a time of 2:08:37 – 30 seconds faster than his previous personal best of 2:09:08 in Houston two years ago at the U.S. Olympic Trials.

"It was a very necessary moment for us, for the United States," Keflezighi said right after his big win. "Coming as an American, to be able turn that left turn and to get that crowd going. I made sure to look up."

"This is beyond running. This is for the people. This is for Boston Strong," he said at the finish line on April 21, 2014.

Born in Eritrea, 39-year-old Keflezighi and his family fled war to establish a new home in San Diego in 1987. He became a U.S. citizen in 1998.
The San Diego High School and UC Los Angeles alum has won four NCAA titles, the New York City marathon, and an Olympic silver medal in 2004.

After his NYC Marathon win in 2009, he talked with NBC 7 about growing up in San Diego and recalled the day his seventh grade teacher at Roosevelt Junior High gave him an offer he couldn't refuse.
"He just said 'You run hard, you do the best that you can, you're going to get an A or B. You goof around, you mess around, and you're going to get D or F. I just took off like a bolt," Keflezighi said.

When he won the 2009 New York City Marathon, Keflezighi became the first American to cross that finish line first in 27 years.

The champ has said it feels like his career "has been fulfilled," but is still always looking for his next marathon.