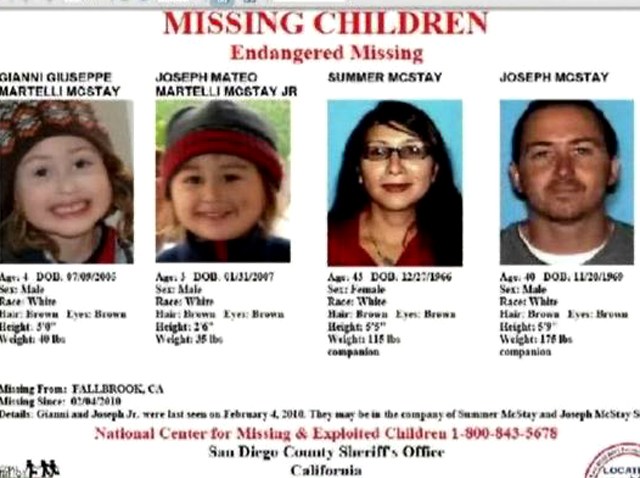 The McStay family, missing for over 4 months, is now part of a national search. On Saturday night, the television show "America's Most Wanted" featured the Fallbrook family asking the country to help find them.
"I'm really hoping that somebody knows something, that somebody saw something and they are going to call in," said the missing man's brother Mike McStay.
McStay's older brother Joseph McStay, a Fallbrook businessman; his wife, Summer; and their two children, Gianni 4, Joseph Jr. 3 have been missing since Feb.4. The family was last seen on surveillance video crossing into Mexico at the San Ysidro border crossing on Feb. 8.
Investigators have had few leads in the case. In May, a tip led Baja California's state police to search for the McStays in El Rosario in central Baja, after a waiter at a local restaurant claimed to have served the family. The waiter accurately described a birthmark on Joey McStay's forehead.
Detectives said there is no evidence the family had financial problems or were facing threats. Since their disappearance, investigators said, the McStays haven't used their bank accounts, credit cards or cell phones.
Anyone with information about the whereabouts of the McStay family is urged to call the San Diego Sheriff's Department at (858) 974-2321 or (858) 565-5200 after-hours.
Tips can also be called in anonymously to CrimeStoppers at 888-580-TIPS(8477). A reward of up to $1,000 is being offered by CrimeStoppers for information leading to an arrest.