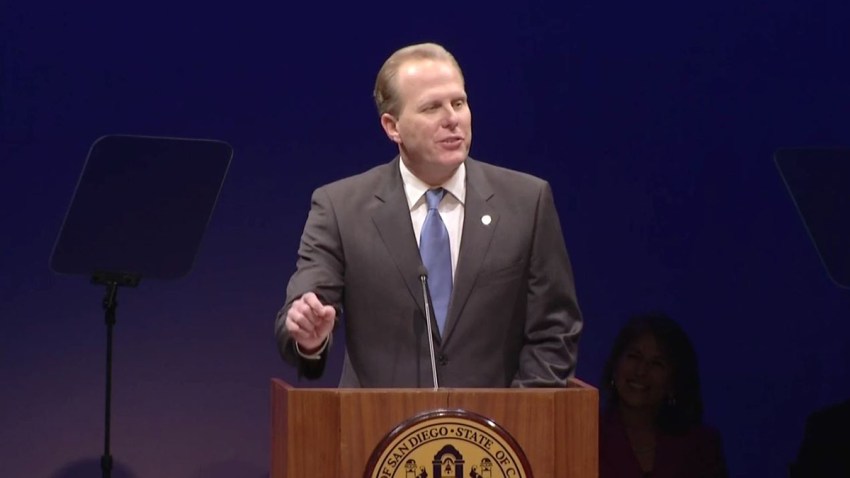 In his first State of the City address Wednesday, San Diego Mayor Kevin Faulconer laid out an ambitious vision for the city, vowing to create a plan for a new Chargers football stadium by this fall and to finish 1,000 miles of road repairs in the next five years.
During Faulconer's first ten months in office, speculation over the Chargers' future has become widespread, especially as Los Angeles shops around for its own NFL team.
The mayor is determined to keep the team in America's Finest City, and he made his intentions clear in his speech at the Balboa Theatre downtown.
"It's time for us, as a community, to come together to decide the future of the Chargers in San Diego," said Faulconer. "This decision will be made on my watch as mayor."
He announced he will collect a group of civic leaders who will explore ways to finance the project and find a viable space. Two options will be on the table: building a stadium in the current Mission Valley location, or building a stadium in conjunction with an expanded convention center downtown.
The group will be tasked with finding a solution that is a "good and fair deal" for local taxpayers by this fall, when the plan will be made public.
"Both the stadium and convention center are vital to San Diego, and together or separate, we can get both done," said Faulconer.
Wherever the big project will be, Faulconer also addressed how most will get there: on San Diego's crumbling roads. For decades, he said, money to fill potholes was diverted to pension benefits. Now, the mayor is making street repair the city's highest infrastructure priority.
"This spring, I will ask the city council to approve my five-year plan to double our street repair efforts," he said. "We will repair 1,000 miles of streets."
In his "One San Diego" budget, Faulconer pledged nearly $100 million to go to infrastructure over the next five years.
But City Councilmembers Todd Gloria and David Alvarez said he missed an opportunity to give a solution for the city's entire $3 billion infrastructure problem.
"On the same day of these State of the City promises, the Independent Budget Analyst released a report stating that the city will be $96.4 million behind the amount the Mayor has proposed for infrastructure expenditures," said a joint statement from Alvarez and Gloria. "This should be a wake-up call for all San Diegans. City streets won't get fixed and fire stations, parks and libraries will be further delayed without a more significant commitment from this administration."
In his address, Faulconer said he also plans to reform the way repairs are made, allowing contractors to bid for city projects online and eliminating red tape.
Faulconer wants to streamline how private and public sectors compete for neighborhood services. As it stands, the bidding process takes an average of nearly 30 months to complete and implement a winner. The mayor wants to cut down the process to make it faster and open it up to more competition.