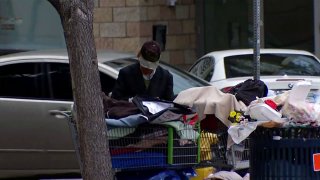 San Diego Mayor Todd Gloria unveiled details Monday in his proposed budget to help houseless residents in America's Finest City in a "compassionate, person-centered approach to addressing homelessness."
Calling homelessness a "humanitarian crisis that goes beyond San Diego," Mayor Gloria proposed a plan to fund more resources for shelterless locals and to hire more individuals to help tackle the problem. His proposed budget includes:
$1.35 million to expand substance abuse treatment programs and to add 65 short-term detox beds;
$6.3 million to add 300 interim shelter beds at new shelter sites;
$1 million to expand a coordinated outreach program operated by PATH (People Assisting the Homeless);
$1 million to expand rapid rehousing programs to serve additional households, including rental assistance and case management;
$300,000 to expand workforce training programs to have more workers to help houseless individuals.
"In total this is more outreach, this is more shelter beds, this is more help for people suffering from addiction, more help for families and individuals who are newly homeless and more workers in the pipeline to help those who are struggling," Mayor Gloria said.
In addition to the financial proposals, the mayor recommended in his budget that the city revamps its homeless services offices into a homeless strategies and solutions department. He said if approved, he would immediately launch a search for a qualified individual to lead the department.
"These investments that we are making are setting the city of San Diego on a path to achieve our ultimate goal, which is ending chronic homelessness," he said.
The mayor was joined by San Diego City Council President pro Tem Stephen Whitburn, advocate John Brady and Mickey Major, a former homeless San Diegan who shared his experience and how he got help from the city.
Major was recently connected to permanent housing through a street outreach program spearheaded by the organization People Assisting the Homeless (PATH). Along with receiving help in securing housing, he also got EBT benefits and a stronger sense of stability that has allowed him to focus on beginning his mission of working in the medical field.
San Diego Mayor's Proposed Budget
Gloria unveiled his $4.6 billion proposed spending plan last week. The mayor is faced with an existing budget shortfall only made worse by the economic impact of the coronavirus pandemic.
Last week, Gloria said part of his budget would be used to address homelessness. He also said the proposed plan will jumpstart San Diego's economic recovery, make changes to policing and address climate change.
The proposed budget also includes $10 million in loans for nonprofits and small businesses devasted by the pandemic – especially in communities hardest hit by the pandemic. You can read all about the mayor's proposed spending plan here.
'A Street Is Not a Home'
On March 15, three homeless San Diegans were killed and many others were injured when Craig Voss – accused of felony DUI – plowed into a row of tents in a tunnel near San Diego City College in downtown San Diego.
The tunnel along the 1400 block of B Street, east of Park Boulevard, is an area often used by homeless San Diegans as an encampment. On the day of the deadly crash, it was cold and rainy. The tunnel was filled with locals seeking shelter.
After the crash, Gloria spoke about homelessness as a prevailing problem in the city.
"Let me state it very clearly: a street is not a home," the mayor said at a March 15 news briefing.
"It's not humane or safe to keep allowing our unsheltered neighbors to keep sleeping under bridges, in alleys or in canyons," Gloria continued. "And we must take decisive action to provide more compassionate solutions for people experiencing homelessness."
At that time, Hanan Scrapper, regional director of PATH, also said the tragedy that happened in that tunnel "further highlights the dangers of living on the streets."
Gloria said the city of San Diego would not turn a blind eye to homelessness and, instead, would "deal with it head-on."
The mayor said the deaths of the March 15 crash would not be in vain.
"We can and we will make progress," he said on Monday. "The only way to make progress, though, is by matching the severity of this emergency with strategies necessary to meaningfully confront it. The actions introduced here today are an effort to do just exactly that."