A former U.S. Navy service member accused in the mysterious disappearance and killing of his wife will stand trial, a San Diego judge ruled Friday.
More witnesses took the stand as the preliminary hearing continued in the case against Matthew Sullivan, 33, who is suspected in the deadly 2014 stabbing of Elizabeth Sullivan, 32.
Elizabeth Sullivan's body was found floating in the San Diego Bay two years after she vanished.
Another hearing will be set to determine when the trial of Matthew Sullivan will begin.
On Thursday, six witnesses took the stand, including Elizabeth Sullivan's friend, Nathan Caracter who spoke about the couple's troubled marriage.
Caracter told the court Elizabeth Sullivan confided in him that she and Matthew Sullivan had "married for all the wrong reasons."
"Liz was never really happy in her marriage, from day one. It was a loveless marriage, according to her," Caracter testified.
According to Caracter, Elizabeth Sullivan eventually found a boyfriend. Caracter said Matthew Sullivan learned of his wife's extra-marital relationship in September 2014, about one month before she disappeared.
The development further strained the couple's marriage, Caracter said.
Caracter testified that in the days before her disappearance, Elizabeth Sullivan had talked with a divorce attorney, transferred some money from a joint bank account to her own account, and taken steps to get a restraining order against her husband to stop him from moving his mother and sister into the couple's home in Liberty Station.
"She was empowered," Caracter recalled. "She felt like she could finally do something with her life, instead of letting life lead her."
At one point during his time on the stand, Caracter also testified that he and Elizabeth Sullivan had used methamphetamine together two times.
Caracter said he saw Elizabeth Sullivan for the last time on Oct. 11, 2014, just three days before she was reported missing. He said he texted and talked with her the following day, but after that, her phone went dead.
Matthew Sullivan's preliminary hearing started one year to the date of his first court appearance in San Diego. Before this week's hearing, Matthew Sullivan's last time in court had been on Valentine's Day 2018, about two weeks after his arrest.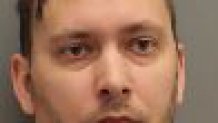 The former U.S. Navy service member was taken into custody on Jan. 31, 2018, in Wyoming, Delaware, in connection with Elizabeth Sullivan's murder. He had relocated there after Elizabeth Sullivan's disappearance.
Matthew Sullivan was extradited to San Diego and was booked into the George Bailey Detention Facility on Feb. 9, 2018. At his arraignment on Valentine's Day 2018, prosecutors said Sullivan had used a knife to kill his wife.
That knife was discovered by investigators hidden in the attic of the home the couple shared in the Liberty Station area. The weapon was found after the couple had moved out, San Diego Police Department Capt. Mike Hastings said last year.
The home also held other clues into Elizabeth Sullivan's death, prosecutors said, including suspicious flooding under the carpet.
Elizabeth Sullivan was first reported missing on Oct. 14, 2014. She was last seen one day earlier near the Liberty Station neighborhood where she lived. A text message sent on Oct. 13, 2014, was the last contact she had with loved ones. Her phone was then turned off. Detectives found Elizabeth Sullivan's car at her home, but no trace of her.
Several reported sightings of Elizabeth Sullivan were investigated by San Diego police in the days following the Navy wife's disappearance, but none panned out.
Detectives searched for the woman – who also shared two children with Matthew Sullivan – for two years to no avail. With each passing day, week, and month, the mysterious case grew cold as her family pleaded desperately for Elizabeth Sullivan's safe return.
On Oct. 4, 2016, everything changed.
Elizabeth Sullivan's decomposed body was found floating in San Diego Bay near Farragut Road, about a half-mile from where she had last been seen alive nearly two years to the date earlier.
SDPD detectives determined she had been a victim of a homicide.
It would take another 16 months for police to arrest Matthew Sullivan and charge him as the suspect in the cold case killing.
At his arraignment on Feb. 14, 2018, San Diego County District Attorney Summer Stephan said Elizabeth Sullivan's body had been found in San Diego Bay on the same day that Matthew Sullivan was packing up his belongings and moving out of California.
Stephan said investigators believe Elizabeth's body had been "hidden somewhere" before it was disposed of in the bay. The DA said the knife found in the couple's home contained "key evidence" linking Matthew Sullivan to the murder.
According to police reports obtained by NBC 7, there was a history of domestic violence in the couple's marriage and they had been arguing over custody of their two young daughters and child support.
Matthew Sullivan has pleaded not guilty.
Last year, following Matthew Sullivan's arrest, SDPD Lt. Mike Holden said he was confident police finally had "the right person" in connection with the cold case.
Holden said investigators believe Elizabeth Sullivan was killed around the time of her disappearance in 2014. He said investigators did not think the body had been in the bay since Elizabeth Sullivan's death but it was unclear where it was from the time she was killed until the time she was found in the water.
Doctors testified Thursday that Elizabeth Sullivan's body showed signs of stab wounds and was likely not in the water for two years.
Caracter was asked questions about refrigerators in the Sullivans' home and said there were two "pretty big" refrigerators at the residence, with the freezer compartments on the bottom.