Wearing a white mask and moving swiftly, a woman robbed a San Diego gas station at gunpoint – in less than 20 seconds – while a surveillance camera captured the crime.
The San Diego Police Department (SDPD) released two surveillance videos Wednesday of the brazen armed robbery, which took place on Oct. 2 at around 1:30 p.m. at a Valero gas station located at 1025 Euclid Ave. in Emerald Hills.
In the first video, the unknown woman can be seen exiting a white Toyota Corolla after the car pulls up near one of the gas pumps. The woman gets out of the passenger's side and quickly runs toward the entrance of the convenience store.
In the second video, the woman can be seen barging into the store and running behind the counter, where she grabs the clerk and points a handgun at his head. Some unintelligible chatter is heard and, in less than 20 seconds, the woman grabs cash from the register and dashes out the door.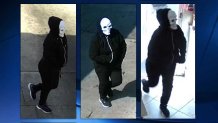 Police said the woman was last seen getting into the front passenger's seat of the white Corolla waiting for her outside. The car, which drove away northbound on Euclid Ave., was described by investigators as a newer model Toyota with no license plates.
Police described the armed robbery suspect as approximately 5-foot-5, weighing between 140 and 160 pounds. She wore a white skull mask, black hooded sweatshirt, black sweatpants and black and silver tennis shoes during the robbery.
More than seven weeks later, the suspect remains at large. The SDPD also released photos of the suspect in hopes of identifying her.
The investigation is ongoing. Anyone with information can call SDPD's Robbery unit at (619) 531-2299 or leave an anonymous tip with Crime Stoppers online or at (888) 580-8477. Crime Stoppers is offering up to a $1,000 reward to anyone with information that leads to an arrest in this case.