A U.S. Marine killed in a military transport plane crash last month arrived in San Diego Tuesday where many turned up to honor him.
Three Marines with ties to Southern California were among the 16 service members killed July 10 when a KC-130T crashed in Mississippi.
Sgt. Chad E. Jenson, of Los Angeles, Capt. Sean E. Elliott, of Orange and Staff Sgt. Robert H. Cox, of Ventura, were among those killed.
Images: Sgt. Chad Jenson to Be Buried in San Diego
The fallen Marine arrived at Lindbergh Field in San Diego Tuesday morning. His hearse arrived at El Camino Memorial Park before noon, where many came out to honor him.
"He was kind, he had a good heart and he tried to make a difference and he was a very positive person," family friend Kasey Congleton told NBC 7.
Jenson had married his wife Jessica just eight months before his death. He had been stationed at MCAS Miramar and Camp Pendleton before Camp LeJeune.
"Chad, along with the other Marines that were part of that accident that day, they all had a lot to give," said his cousin Treasha Thomas. "They were highly trained, very dedicated individuals."
John Larrick told NBC 7, he didn't have a personal connection but felt he needed to be there.
"We need to show our appreciation our gratitude to these men and women," Larrick said.
Jenson, a member of the Marine's elite 2nd Raider Battalion at Camp Lejeune, was remembered as the selfless center of a championship football team.
He played for Mira Costa High School on its 2008 & 2009 Championship football team, according to an online fundraising page set up by the family.

Kyle Demarco, the quarterback on Jenson's high school team, told the Daily Breeze that he broke into tears when he learned Jenson had died.
"If I have a kid one day, I want him to have the type of character that Chad did," Demarco said.
Jenson's family hopes to raise money to create a Chad Elliott Jenson Memorial Scholarship to give each year to a Mira Costa HS student athlete.
"We felt helping another Mustang with similar virtues that Chad symbolized on the journey to higher education would be fitting to his honor," the family states on the website.
Jenson will be buried Friday at Miramar National Cemetery.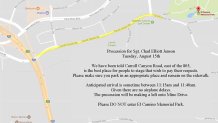 The military transport plane was flown by Marine Aerial Refueler Transport Squadron 452 (VMGR-452) based in Newburgh, New York, military officials said.
The 15 Marines and a Navy sailor came from all over the country. Six of the Marines and the sailor were from an elite Marine Raider battalion at Camp Lejeune, North Carolina. Nine were based out of Stewart Air National Guard Base in Newburgh, New York, home of a Marine Aerial Refueling and Transport Squadron.
Copyright AP - Associated Press