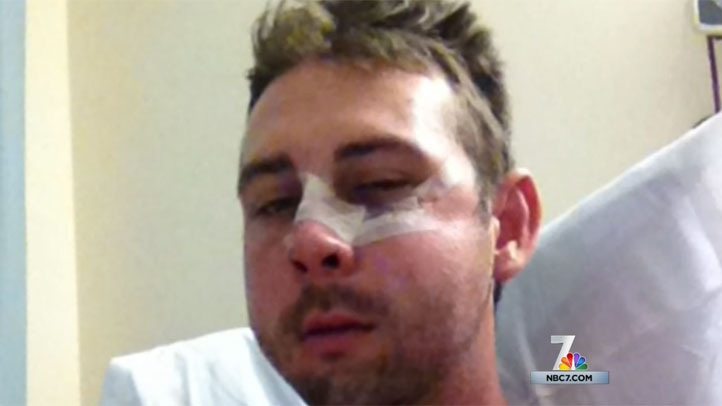 A South Bay jury returned a guilty verdict against a Marine who badly beat a man outside a country music concert in Chula Vista two years ago.
After a week-long trial, Sgt. Raymond Sharkey was found guilty of two felony counts of assault and battery in the beating of Zachary Zander. The Marine had maintained his innocence leading up to the trial.
In September 2012, Zander and his friends were tailgating in the parking lot of a Jason Aldean concert at the Sleep Train Amphitheatre when they encountered a group of Marines nearby.
At Sharkey's preliminary hearing last October, Zander testified that the Marines were bothering several women in his group, so he intervened. That testimony was supported by witness Anna Jean Wienberger last week when she took the stand.
"Zach stood up and said, 'That's not right. You don't hit a girl,'" Wienberger told the court.
She said while a friend tried to hold him back, Zander – who had a high blood alcohol content – was charged by a group of six or seven Marines.
The first to throw a punch was Sharkey, who then pushed Zander to the ground, according to the witness's testimony.
"About six of the Marines started hitting him and kicking him, and it was at that point I started to run and go get cops because they were still not there," Wienberger testified.
Zander was left brutally injured with several broken bones in his face. Doctors had to perform reconstructive surgery on him, using more than 20 screws, plates and a bone graft to heal him.
His grandfather Frank Coleman told NBC 7 the victim is still in the process of recovery and will have lingering effects from the beating for a long time.
For Coleman, this guilty verdict does not go far enough to punish Sharkey. He said he is asking the military to kick Sharkey out of the Marine Corps.
"We train our Marines like trained assassins to go out and maim and kill the enemy, and they do a great job, but then they turn them loose on the weekend, and they get plied with alcohol and go out picking fights with the people they are supposed to support. That's my grandson," said Coleman.
The grandfather also wants charges brought against the other assailants who attacked Zander.
Sharkey is scheduled to be back in court on July 18 for his sentencing.