Days after a customer was spotted in a Santee Vons wearing a Ku Klux Klan hood, a shopper at a Food 4 Less in the same city was seen wearing a face covering with a swastika.
The incident at Food for Less happened Thursday evening at the store on Cuyamaca Street. Pictures of the shopper, including one that showed him having a conversation with a San Diego County Sheriff's deputy, surfaced on Twitter.
The SDSO said deputies responded to the store for a disturbance call at around 6:30 p.m. When they arrived they asked the man to remove his face covering and he complied.
"The Sheriff's Department does not condone hate or acts of intolerance. We are a county that is welcoming of people from all backgrounds," the SDSO said.
Deputies are still investigating the incident.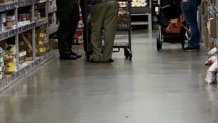 NBC 7 tracked down the man behind the mask. He claims the community is misreading the message he's sending.
"It was 100 percent intended to be a peaceful protest," he said. "The only Nazi thing was trying to say is the governor is acting like one up on his podium gloating his power the only and taunting his power."
The man said he was told not to return to the store wearing the same mask.
A Food 4 Less said the incident does not fall in line with their company values which is why sheriff's deputies were called to the scene.
Last Saturday, photos of a Vons shopper wearing a klan mask sent shock waves through the San Diego community and drew the ire of local leaders, including Santee's mayor.
A Vons spokesperson said grocery store workers repeatedly asked the man to remove the hood, but all requests were ignored until he was in the checkout area.