San Diego County Crimestoppers released images Friday captured from surveillance video in the hopes of finding a man wanted in a fatal stabbing three months ago.

Walter "Ras" Riley was found with multiple stab wounds on a sidewalk on Bacon Street near Newport Avenue around 12:30 a.m. on June 22.
Riley, 65, died from his injuries at UC San Diego Medical Center.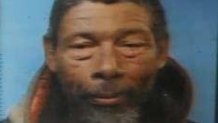 A man believed to be the suspect was captured by the camera at a local business off Newport Avenue, just moments before the attack happened, police said. He was wearing a gray hooded sweatshirt and dark colored pants.
A witness told NBC 7, he saw the suspect running away eastbound in the north alley of 4900 Newport Avenue.
San Diego homicide investigators said the attack appeared to be unprovoked. Riley and the suspect appeared to have had a conversation before the attack, officials said.
The killing shocked the tight-knit community of Ocean Beach.
"I used to shop at People's Co-Op. I shop there every week. I would see him there. He would offer to help with groceries," business owner Janet Walsh told NBC 7 after the crime.
"He was just very sweet. There was no reason for this to happen. It's devastating," she said.
Police are asking anyone with information to contact Crime Stoppers at (888)580-8477.