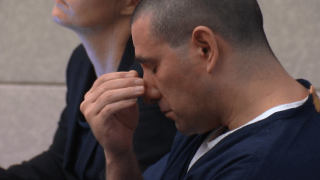 A man who killed his estranged wife and her sister in Escondido was sentenced Monday to life in prison without the possibility of parole plus 26 years to life in state prison.
Juan Carlos Ortega, 38, was convicted by a Vista jury last month of first-degree murder for the August 2018 deaths of 30-year-old Veronica Soto Ortega and 26-year-old Ana Soto.
Ortega was accused of stabbing his wife Veronica Soto to death, and stabbing and shooting her sister Ana Gabriella Soto before putting her body in her SUV and setting it on fire.
Prosecutors said Ortega killed the women at his wife's apartment just after 3 a.m. Both victims' bodies were discovered miles apart from each other on Aug. 9, 2018.
Escondido Police Department Detective Ross Umstot testified in a preliminary hearing Veronica Soto was found in her small Escondido apartment with multiple stab wounds and Ana Soto was found in a burned SUV with stab wounds and a gunshot through the heart. Ortega's two children, then ages 4 and 5, were found unharmed in the apartment.
Ortega was arrested later that day at his workplace in Carlsbad.
Along with two first-degree murder counts, Ortega was convicted of an arson count, two child endangerment counts, and special-circumstance allegations of lying in wait and committing multiple murders.
In a statement, San Diego County District Attorney Summer Stephan said, "The brutality with which this defendant killed the two victims is horrendous and is sadly a disturbing example of what can happen when domestic violence escalates."