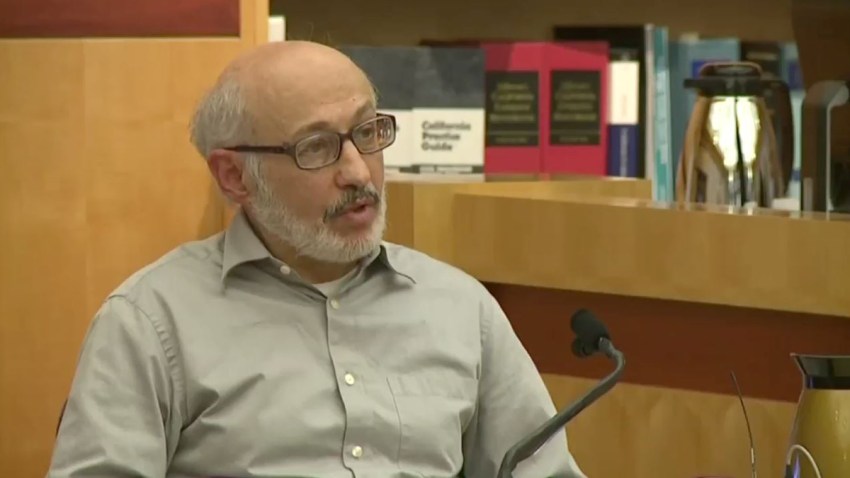 A North County man accused of killing his neighbor over a tree trimming feud took the stand again Friday in his trial, testifying that he's not happy about the shooting but he did prepare for the worst that day.
Prosecutors questioned defendant Michael Vilkin on whether he planned to kill filmmaker John Upton in March 2013.
"I was hoping for the best, but I was preparing for the worst," ViIkin testified.
He told prosecutors that when he feared his neighbor would hurt him, he was wearing his computer glasses which "would be a better choice in a shootout."
Vilkin is charged with the murder of Upton. The incident started as Vilkin was working on some property he owns next to Upton's Encinitas home.
The defendant said Upton approached him angrily and was holding what looked like a gun. Vilkin shot Upton first in the stomach and then in the head when he said he thought Upton was wearing a bullet proof vest and continued coming toward him.
Prosecutors have said Upton was not armed at the time, but was instead carrying a phone in his hand.
The fatal shooting ended a year-long dispute that began over tree trimming. Earlier in the week, Vilkin testified that Upton's body language became threatening overtime, and he said he even saw Upton with a gun in one instance.
That's when Vilkin began looking into getting his own gun, he said.

On Friday, when prosecutors asked Vilkin if he is happy about what he did, he responded, "I cannot be possibly happy. I cannot feel satisfaction from killing a person no matter what he did because it was not a punishment for what he did to me. It was automatic action to protect my person."
Among others who testified Friday was the ex-husband of a woman living with Upton when the shooting happened. He claimed Upton was an aggressive person.
The closing arguments are scheduled for Monday.