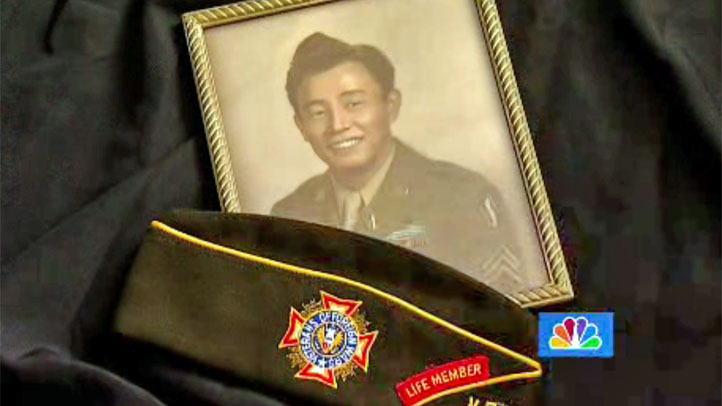 A man who died after a car came rolling into his room at a La Mesa elder care facility on Tuesday was a decorated war hero.
Henry Hashiguchi was seated next to a wall inside the facility on Mills St.Tuesday afternoon when the unoccupied car came crashing into the building, throwing him to the ground.
The 89-year-old widower fell on his head and was transported to a local hospital.
Police initially believed Hashiguchi's injuries were non-life threatening, but he died in the hospital shortly after arriving.
When officers arrived, the car was partially inside the building, and there was no driver inside.
Family members of Hashiguchi told NBC 7 San Diego that he was a decorated war hero, who received two purple hearts and a Congressional gold medal.
He was also one of the thousands of Japanese Americans who were forced into internment camps in the U.S. during World War II. After being released from the camp, he immediately joined the Army, his son told NBC 7 San Diego.
"They all wanted to volunteer because they wanted to prove their loyalty to the United States," Rich Hashiguchi said.
Hashish's company helped to rescue the lost Texas battalion, the Texas Rangers, when they were completely surrounded by Germans. He was at one point, shot in the neck.
After losing his wife of nearly 60 years in 2006, Henry began suffering from dementia and was placed in a La Mesa senior home, where he died on June 26 after being struck by the unoccupied vehicle.
Police later found the owner of the car and determined he either forgot to set his parking break, or he left the car in gear and it rolled backwards across the street and into the building.
The car rolled about 260 feet before crashing into the building, police said.
His son and daughter can't believe their father, who survived so many close calls in war, would end up dying like this.
That's why they want the car's owner to be held accountable.
"People need to take responsibility for their actions that's called Karma," daughter Donna West said. " I would like to see that kind of thing done."
Keep up to date on breaking news: Download our improved iPhone app, follow us on Twitter @nbcsandiego, fan us on Facebook, sign up for our breaking news e-mail alerts or text SDBREAKING to 622339 to receive text messages for local breaking news. (For more info, text HELP. To end, text STOP. Message and data rates may apply.)